! THURSDAY REPORT ON-LINE> <! 04/03/99 Issue> <! Site Designede and Developed by: S. Mehrad B.Eng. For comments and problems contact: technical@mehrad.qc.ca> <! http://www.mehrad.qc.ca>



<! ________________________________________________________________________________>
Graduate Students Association wants to serve every member
Grad House, at 2030 Mackay St., is where the Graduate Students Festival has been going on yesterday and today, from 10 a.m. to 5 p.m. You're invited to drop in for some hospitality.
Yesterday afternoon, Craig Morrison, Grayson Cooke and Michel-Charles Therrien warmed things up with music, and Morrison signed copies of his book on rockabilly music, Go Cat Go. The festival winds up tomorrow evening with a wine and cheese.
Improving the appearance of Grad House is on the GSA's list of things to do. The facility is used for meetings, conferences, wine-and-cheese parties and other events, but it has got a little shabby over the years.
"Acting on a GSA request, the University had an estimate done for the replacement of carpets and repainting of the building," Dennis said. "The $16,000 estimated cost is prohibitive for us, although we have offered to pay a small portion. In the meantime, we are doing other things -- using plants, wall plaques and vintage photographs from the Concordia Archives.
"We are also approaching the Concordia Bookstore for memorabilia, like mugs, glasses and other collectibles to go in a curio cabinet. Building Concordia spirit is a critical goal of the GSA."
The Concordia Graduate Students Association (GSA) has taken on new life, and part of the proof is a "Graduate Student Festival" now in progress.
GSA president Colin Dennis says the Festival is part of an attempt to become better known and bring graduate students together. One of the primary goals is "fostering a return to civility" after a rather fractious period.
Concordia has about 3,500 graduate students, all automatically members of the GSA. The organization is restructuring to ensure that students are well represented both by the GSA and by their department and Faculty organizations. Now, Dennis says, "relations among all graduate student groups are the best they have been for a long time."
A second goal is improving basic services to graduate students. "This means prompt response to queries and complaints, whether those complaints involve questions about the GSA Health and Dental Plan or problems students might have with the University," Dennis explained.
"It also means improving access to computing services. We have spent close to $20,000 over the last two months to improve our computer lab, and we hope to have e-mail, Internet and word-processing capability on all of our computers."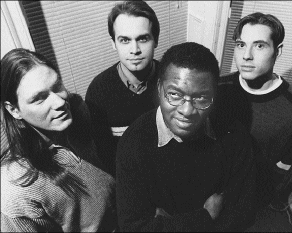 Dennis got his BA in Political Science from Concordia, and graduated from the Journalism program in 1993. He was Graduate Secretary for the Humanities PhD program for two years -- which gave him lots of experience with graduate students -- and now he is one himself, working on his Master of Arts in Public Policy and Public Administration.

He and his colleagues on the GSA executive are determined to defend the interests of all graduate students, and they're going to start with a petition calling on the University to roll back tuition fees to pre-1999 levels.

Considering the administration's open support for higher, not lower, tuition, these are fighting words. Launching the petition is part of the GSA's resolve to promote debate of all kinds, and greater participation of graduate students in university life.

"One of our failures this year has been our inability to have more graduate students fill the vacancies on University-wide committees," Dennis said. "We feel that as the image of the GSA improves, more students will volunteer their time. One plan the GSA has been looking at involves the GSA offering students one-and-one-half credit value ($90) for sitting regularly on a committee."

Dennis said the GSA also wants to see a dramatic rise in the level of fellowships and grants to graduate students, a goal that is echoed by the School of Graduate Studies.

- BB

Photo:


Seen at Grad House are Tod Kippin (VP Finance, who is doing his PhD in Psychology), Martin Kapustianyk (VP External), Colin Dennis, and Devin Mueller (VP Services, doing his MA in Psychology). Also on the GSA executive but absent from the photo is James Johnson (VP Advocacy, doing his MA in Philosophy).

<! _______________________________________________________________________________>




Copyright 1999 Concordia's Thursday Report.