! THURSDAY REPORT ON-LINE> <! 04/03/99 Issue> <! Site Designede and Developed by: S. Mehrad B.Eng. For comments and problems contact: technical@mehrad.qc.ca> <! http://www.mehrad.qc.ca>



<! ________________________________________________________________________________>
Students come to the fair -- the Admissions Fair
by Barbara Black
---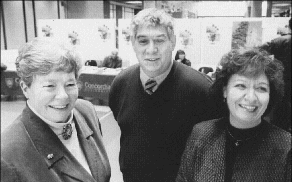 Hundreds of prospective students converged on Concordia recently for a fair -- not for fun, but to determine their future.

Over three days -- Wednesday and Thursday of last week and the following Monday -- prospective students streamed into the atrium of the J.W. McConnell Building. Young people who had previously only heard about Concordia from their counsellors could get a glimpse of the University and talk directly to staff.

"We've held the Admissions Fair for four years now," explained Registrar Lynne Prendergast. "It helps us deal with the sheer volume of interested students, and gives us a chance to respond to them in a welcoming way."

There's a rhythm to the year for the staff of the Office of the Registrar. Work begins back in the fall, or even before, with visits to college fairs and faraway high schools. Concordia representatives go east to the Maritimes, west as far as B.C. and Alberta. They visit the U.S., especially New England, and spend a lot of time touring schools in Ontario, with its huge potential market. They travel throughout Quebec, spreading the good name of Concordia.

In fact, recruiting can be collaborative rather than competitive. As part of La Tournée, recruiters from all the Quebec universities get together to visit CEGEPs throughout the province.

"We are also using more multimedia lately," Prendergast said. "It is especially useful for smaller or more distant markets. Multimedia packages bring us into more markets than we would be able to reach with more traditional recruitment methods."

While out-of-province students pay a tuition differential, this added fee is not really a deterrent. "In fact, the out-of-province students at Concordia are paying the Canadian average."

Enrolment has remained stable at Concordia on the whole, at about 25,000, but "talk to different departments, and you'll get very different stories," she said. "Each Faculty has its own strategy."

The Faculty of Commerce and Administration is focused on recognition of its quality, in part because of its accreditation by the AACSB, a major standards-setting association of business schools.

While Commerce's enrolment dipped early in the decade, the Faculty has since been enjoying successive increases, even despite raising the bar for admission. This year, the CRC score (measure of a student's performance at CEGEP) for admission to Commerce is the highest in the province for students entering from CEGEP.

The Faculty of Engineering and Computer Science is actively looking for creative ways to respond to changing needs of industry, and those needs are acute. TechnoVision, a non-profit organization backed by Montreal-area municipalities and corporations, announced last month that while high-tech jobs are multiplying by 20 per cent a year, universities are graduating suitable applicants at the annual rate of only 3 per cent.

As the Faculties fine-tune their approaches, the Office of the Registrar handles the big picture. "The role we play best is general recruitment," Prendergast said. This means persuading young people who may be intimidated by the very idea of university that it's a wonderful place where they will discover the best in themselves."

"We try to find out their career interests. They may be very focused, or not," she said. "Students don't always understand concepts like complementary disciplines. It's rare that a student will think of combining theatre and business, for instance, which could lead to a wonderful career. We can raise these unusual combinations to wake them up to what's possible."

Photo:


Registrar Lynne Prendergast, Assistant Registrar Pete Regimbald, whose portfolio includes Recruitment and Publications, and Assunta Fargnoli, Admissions Coordinator, who organized the Admissions Fair.

<! _______________________________________________________________________________>




Copyright 1999 Concordia's Thursday Report.