! CONCORDIA'S THURSDAY REPORT ON-LINE> <! Dec. 2, 99 Issue> <! Site Designede and Developed by: S. Mehrad B.Eng.> <! For comments and problems contact: technical@mehrad.qc.ca> <! http://www.mehrad.qc.ca> <! also:> <! http://www.software-farm.com>



<! ________________________________________________________________________________>
Lillian Vineberg named Chair of the Board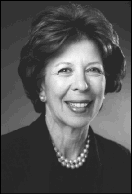 Lillian Vineberg was confirmed as Chair of Concordia's Board of Governors at its meeting on November 17. Her term lasts until June 30, 2000. She has been Acting Chair since the death of Reginald K. Groome on September 20.

An artist and longtime community volunteer, Mrs. Vineberg joined the Board in 1994, and was elected Vice-Chair in 1997. She chaired the Advisory Task Force on the Revitalization of the Loyola Campus. She is also an active member of the External Advisory Board of the Faculty of Fine Arts.

She was a 1983 graduate of Fine Arts, with distinction. A painter and printmaker, she has exhibited across Canada, the U.S. and Japan, and her work is represented in many corporate collections.

She has served as a councillor for the Town of Hampstead for the past 22 years, and is currently responsible for finance.

Rector Frederick Lowy said, "We are entering a particularly exciting period of development for Concordia, and we are fortunate to have a person of Mrs. Vineberg's stature to lead us. She is the first woman to hold the position at Concordia, and, I believe, the first woman to chair a university board in Quebec."

<! _______________________________________________________________________________>




Copyright 1999 Concordia's Thursday Report.