! CONCORDIA'S THURSDAY REPORT ON-LINE> <! Dec. 2, 99 Issue> <! Site Designede and Developed by: S. Mehrad B.Eng.> <! For comments and problems contact: technical@mehrad.qc.ca> <! http://www.mehrad.qc.ca> <! also:> <! http://www.software-farm.com>



<! ________________________________________________________________________________>
Stratford veteran directs Midsummer Night's Dream
by Barbara Black
---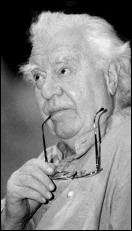 The production that opens tomorrow night at the D.B. Clarke Theatre of A Midsummer Night's Dream might be renamed Toughing It Out in the Forest with the Squeegee People. It is definitely not going to be full of gauzy fairies dancing to Mendelsohn, according to director Douglas Campbell.
The 77-year-old actor and director, a veteran of the original Stratford Festival and almost innumerable Shakespearean productions, continues to find new insights in the plays. One of the benefits of the relatively long rehearsal period required for this student production is that he has had time to meditate on this familiar play once again.
"As with Stratford, where we also had about a month, I've had some thinking time," he said. "The fairies, for example, seem rather poisonous, rather dangerous. Their points of emotional contact are quite different from those of the humans. In fact, this play starts with a fairly unpleasant premise -- but it all comes right in the end."
There's a negative side to the long preparation time, however. Campbell chafes at having to arrange his rehearsals around the other academic commitments of his young actors because the level of intensity suffers.
As with most directors of students, he will emphasize their energy and contemporaneity in this production, but along the way, he's trying to improve their diction. "I do what I can. I tell them to watch the phrasing, to stress the nouns and verbs, not the conjunctions, like and.
"When people say, But that's how people actually speak, I say, This isn't life. This is artifice, this is a craft. You have to keep it interesting and intelligible." Young actors should be learning phonics, he added. They could learn something about vocal sounds, and at the end of it, they would be able to imitate any accent.
The acting students he meets are realistic about their career prospects, he said. "They know you have to have a lot of strings to your bow, to know liter ature, especially theatrical literature, and the theatre needs other [professionals] besides actors."
Campbell has a lot of experience to pass on. Born in Glasgow, he came to Canada in 1953 with Tyrone Guthrie for the launch of the Shakespearean summer festival at Stratford, Ontario. He went on to play many juicy roles -- Falstaff, Sir Toby Belch, Othello and King Lear among them -- and was often seen on television. He has lived in Minneapolis, Los Angeles, Sheffield (England) and Toronto, but last year, he moved with his wife, Moira Wylie, to an Old Montreal condo. As he told The Gazette's Pat Donnelly in an interview, he has many warm memories of acting friends and audiences, both French and English, and loves being back here.
A Midsummer Night's Dream will be presented December 3, 4, 10 and 11 at 8 p.m. and December 5 and 12 at 2 p.m. in the D.B. Clarke Theatre, 1455 de Maisonneuve Blvd. W. Tickets range from $5 to $10. For reservations, please call 848-4742.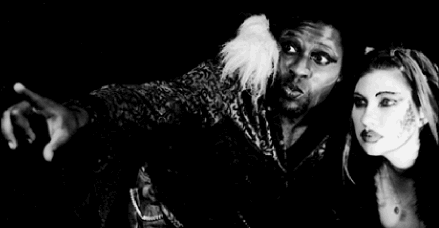 Oberon (Gage Pierre) and Titania (Annemarie Rued), the King and Queen of the Fairies, whose marital discord disrupts human affairs and even the weather in A Midsummer Night's Dream.

<! _______________________________________________________________________________>




Copyright 1999 Concordia's Thursday Report.