! CONCORDIA'S THURSDAY REPORT ON-LINE> <! Dec. 2, 99 Issue> <! Site Designede and Developed by: S. Mehrad B.Eng.> <! For comments and problems contact: technical@mehrad.qc.ca> <! http://www.mehrad.qc.ca> <! also:> <! http://www.software-farm.com>



<! ________________________________________________________________________________>
Cinema throws a party to celebrate its new home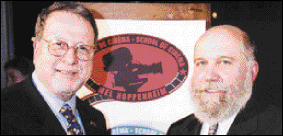 Mel Hoppenheim, chair of the Faculty's advisory board, and Professor Peter Rist, Chair of the Mel Hoppenheim School of Cinema, in front of the School's new logo.

It was party time in the big location studio at the Mel Hoppenheim School of Cinema last Thursday, as several hundred students, teachers and industry friends celebrated their new -- but not permanent -- home.

The former Cinema Department, renamed in gratitude to film equipment entrepreneur Mel Hoppenheim, moved into two and one-third floors of the Faubourg Tower because they desperately needed more space, and couldn't wait for the new visual arts building promised sometime in the next decade.

As a result, Cinema will be the last to move into new facilities when they are built, and in the meantime, students and staff are delighted with their modest but functional new quarters.

Cinema Professor John Locke, who has done a close analysis of space needs for the Faculty of Fine Arts, pointed to some much-needed new features. For the first time, there is a sound teaching studio that is big enough to give classes in. The graduate students in Film Production now have separate rooms with editing facilities for each of the two years in the program, plus a little area to socialize in. Similarly, the new Master's in Film Studies has its own space.

Visitors to the opening were able to tour the "puppet animation studio," a little room where figures are repeatedly photographed to build up an animated film, and the other animation facilities, which have individual light tables for students to use when drawing their animation cells. Editors were on hand to show how film is edited digitally, a quick alternative to cutting and re-assembling actual film stock.

Architects doing the renovations were able to identify walls that needed reinforcement against intrusive sound. However, there were limitations to what could be done in an existing office building, Locke pointed out. The big location studio where the reception was held has a 10-foot ceiling, but a real, industry-standard shooting studio would have a 20-foot ceiling and a full lighting grid.

Concordia has one of the busiest and best-known film schools in Canada, and turns out dozens of creative and technical filmmakers every year. In preparation for a trip by several administrators to Los Angeles recently with Mel Hoppenheim and Mayor Pierre Bourque, Cinema Chair Peter Rist put together a list of "100 Concordia filmmakers" that includes such well-known grads as Steve Surjik, Christian Duguay, George Mihalka, Bachar Sh'bib, Arto Paragamian, Pascale Bussières, Lynne Stopkewich, Manon Briand, and Peter and David Wellington.

- Barbara Black

<! _______________________________________________________________________________>




Copyright 1999 Concordia's Thursday Report.