! THURSDAY REPORT ON-LINE> <! 01/04/99 Issue> <! Site Designede and Developed by: S. Mehrad B.Eng. For comments and problems contact: technical@mehrad.qc.ca> <! http://www.mehrad.qc.ca>



<! ________________________________________________________________________________>
Entrepreneurship training is so useful that it's now compulsory
Business plan winner started with potatoes
by Derek Cassoff
---
It started out, incredibly enough, as a search for sweet potatoes. By the time Miguel Da Costa Frias was through with his search, he had succeeded in putting Concordia's business plan writing on the map, on a par with that of the top American business schools.
Da Costa Frias recently became the first Concordia student to excel at a prestigious American business plan competition when he made the finals of the Enterprise Creation Competition in Oxford, Ohio.
"It's a big step forward for Concordia," said Management Professor Tom O'Connell, who teaches courses on entrepreneurship in the Faculty of Commerce and Administration. "It shows that our business plans are equal to those produced in the United States. Concordia is now perceived as a viable force for entrepreneurship."
Da Costa Frias' plan was based on a proposed business that would create, manufacture and distribute specialty foods and dietary supplements for people suffering from diseases that require a specific diet. The business plan, scaled down to 25 pages from a ton of research, was cited for its thoroughness and attention to detail, as well as its originality.
"The real strength of Miguel's business plan is his own character," O'Connell said. "He's dynamic and charismatic, and he presents his ideas well. He's also put considerable research into his plan. He knows his subject really well and he understands the market."
Da Costa Frias, 23, came up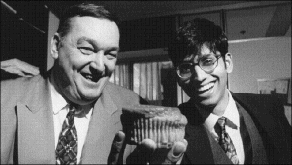 with the idea for food supplements from his own personal battle with severe allergies, a condition that, at times, has restricted his intake to 11 foods, including items such as sweet potatoes, cassava and sea salt.
Frustrated at first by his inability to find these items and convert them into meals, Da Costa Frias soon realized that there is likely an incredible demand for a company providing custom-made diets to those suffering from a wide range of illnesses, including diabetes and Crohn's disease, which is a chronic digestive disorder.
"There were some really exciting possibilities, with an incredible amount of money to be made," he said. "We're talking about several billion dollars' worth of unsatisfied demand. I became totally obsessed with this."
Da Costa Frias took 18 months off from school to develop his idea. He enrolled at Concordia last September as an independent student, taking courses like entrepreneurship and small business management that he figured would help him develop his plan and eventually launch his business.
"I realized that I needed some structure to help me with what I wanted to do," he said. "The courses are teaching me how to plan and how to manage a business. They've added a lot in terms of planning and strategizing."
In addition to his success in the U.S., Da Costa Frias also won Concordia's own Business Plan Competition and was picked by the Concordia Entrepreneurship Association as its Entrepreneur of the Year.
O'Connell, who has been teaching entrepreneur courses at Concordia for more than 10 years, says most business plan writers rarely develop their work into full-fledged businesses. A lack of start-up funds is often too large a stumbling-block to overcome.
However, O'Connell says the skills his students pick up along the way are transferable to many other aspects of business -- so much so that the Faculty, on the recommendation of its advisory board, recently made entrepreneurship courses a requirement for all Commerce students.
"The process of putting a business plan together helps the students develop the skills they need to initiate and manage a project," he said. "It prepares them for upward mobility in any organization." <! _______________________________________________________________________________>



Copyright 1999 Concordia's Thursday Report.