! THURSDAY REPORT ON-LINE> <! 01/04/99 Issue> <! Site Designede and Developed by: S. Mehrad B.Eng. For comments and problems contact: technical@mehrad.qc.ca> <! http://www.mehrad.qc.ca>



<! ________________________________________________________________________________>
Liberal Arts College celebrates 20 years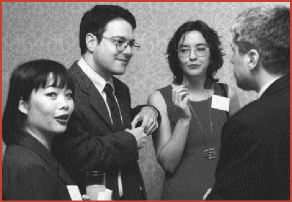 A guest lecturer, testimonials from fond alumni and exuberant entertainment by current students marked the 20th anniversary of Concordia's Liberal Arts College (LAC). The weekend, March 18 to 20, finished with a flourish, as about 130 attended a dinner-dance at the Sheraton Centre hotel.
The College was created out of the opportunity presented by the 1974 merger of Loyola and Sir George Williams, recalled Professor Fred Krantz recently. A committee of scholars spent two years developing the curriculum, and it has basically remained the same, based on the great books of Western civilization from Plato through the centuries, as well as art, music and the history and philosophy of science.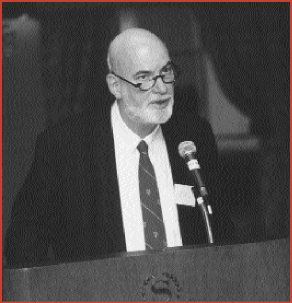 However, as current principal Geoffrey Fidler noted, students and faculty contribute freely to a critique of the curriculum at the end of every term. "It's very democratic here -- although often, it's the students who resist change," he added with a smile.
Krantz and Fidler were interviewed briefly at a regular Thursday afternoon coffee-and-cookies session in the College, which is in a three-storey former house on Mackay St. The room was filled with students obviously enjoying themselves. They form close bonds at the College, not only through their classes in the 42-credit LAC core program, but through an annual cultural trip to New York and, last year, a successful junket to Italy.
Only about 45 students are invited to join the College every year. As well as essays and a language exam, prospective students must submit to an interview. It's a time-consuming process for faculty, but one to which the College's nine academic fellows are committed.
"We've brought people in for interviews from as far away as Vancouver," Krantz said. "You can't tell everything from a student's marks in CEGEP. We're looking for the thinking person who asks a searching question."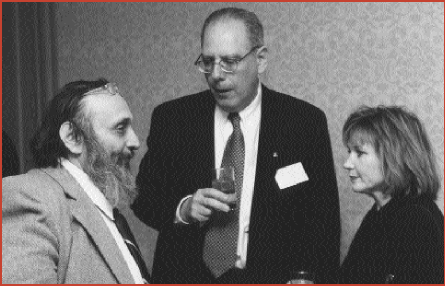 One direct result of the weekend celebration was the formation of an LAC alumni association; Julia Amblard is the first president. Alumni have also expressed interest in a mentoring program to link older and younger grads and help launch careers.
- Barbara Black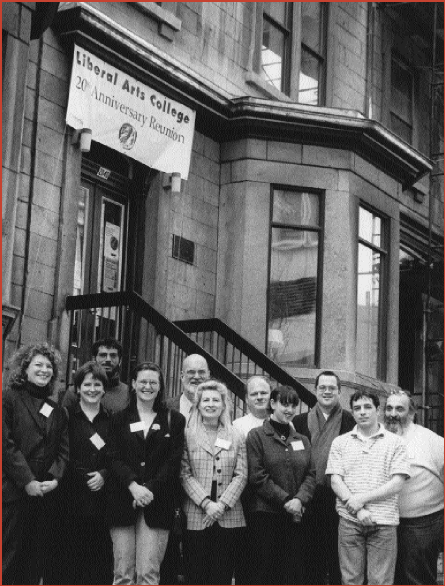 Alumni came from far and wide to celebrate LAC's big weekend. left, in the front row centre, is Julie Amblard, who will be the first president of the College's alumni association. Above, are one of the founders, Professor Harvey Shulman, and Dean of Arts and Science Martin Singer. Above left is Professor Fred Krantz, addressing the audience at the dinner dance at the Sheraton Centre. <! _______________________________________________________________________________>



Copyright 1999 Concordia's Thursday Report.