! THURSDAY REPORT ON-LINE> <! 01/04/99 Issue> <! Site Designede and Developed by: S. Mehrad B.Eng. For comments and problems contact: technical@mehrad.qc.ca> <! http://www.mehrad.qc.ca>



<! ________________________________________________________________________________>
Students take to the streets
by Jane Davenport
---
Concordia students stopped traffic throughout downtown Montreal yesterday to protest the plight of Canada's post-secondary education system.
"The two biggest issues are the underfunding of the system and the current crisis in student debt, which is related to flaws in the loans and bursaries system," said Rob Green, Quebec representative of the Canadian Federation of Students and incoming president of the Concordia Student Union (story on student election).
In addition to Concordia students, CEGEP students from as far away as Hull and Joliette joined the throng, which Green had promised would be festive and unusual.
"You're going to see giant puppets, street theatre, clowns," he said. "We got tired of trying to attract the media, so we decided to become the media."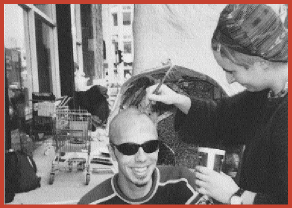 The protest was organized by the Canadian Federation of Students (CFS), of which Concordia's undergraduate and graduate students are officially members, in conjunction with a provincial post-secondary student federation. This distinguishes it from last week's demonstration, in which 5,000 students from CEGEPs and Montreal universities took to the streets. Although some Concordia students did participate, the CFS, and therefore Concordia, did not officially support that demonstration.
"The FŽdŽration ƒtudiante Universitaire du QuŽbec (FEUQ) organized that demo, and by the time they called to see if we wanted to participate, all their demands were nailed down. We had no input; their material was basically all done," Green said.
The CFS felt the FEUQ's demands were weak because they focused strongly on issues that had already been promised by the provincial government in last fall's election. "In that sense, it was a demonstration about nothing," Greene explained. "They were asking for things we should expect anyway."
Greene specified that his criticism of last week's protest was directed solely at the FEUQ leadership. "A lot of the students who came out didn't know the demands were so weak. We strongly support the students who were out there, but question the motives of the FEUQ in coming up with such attainable demands," he said.
"That's the difference between our demonstration and theirs," he added. "We're not afraid to criticize the Quebec government."
Greene pointed out that since 1994, $750 million has been cut from post-secondary education in Quebec, on top of $7 billion at the federal level. "That has led to program cuts, larger class sizes and the overall quality of education going down," he said.
He also criticized the loans and bursaries program, which gives students up to $10,000 a year to cover tuition fees and living costs. "If you get extra income or child support -- if you're a single mother -- that's deducted from the bursary," Greene said. "The poverty line in Canada is $14,000. What we're dealing with here is a system that forces people to live in extreme poverty."
Photo (Above) : New CSU president Rob Green has his head painted purple for the protest. Organizers expected 2,000 students to take part in the march <! _______________________________________________________________________________>



Copyright 1999 Concordia's Thursday Report.