[ Concordia | CTR Home | Welcome | This Issue | Stories | The Editor's Desk ]
---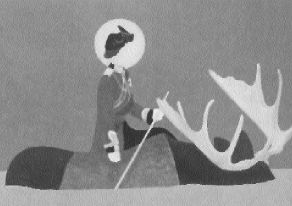 Satirical artist speaks at Homecoming
Toronto artist/historian Charles Pachter, whose provocative works often tease the fragile Canadian identity, is the headliner of this year's Homecoming festivities.
Pachter loves to take popular icons -- a moose, the Queen, the maple-leaf flag -- and then transmute them in an arresting, lighthearted way.
Margaret Atwood writes in her foreword to a new book about the artist: "He is capable of constructing a mysterious and beautiful image... and then undercutting it [with a title that is] a play on words. In many countries, you would not be taken seriously if you did this sort of thing. In Canada, paradoxically, it is difficult to be taken seriously, in the long run, unless you do this kind of thing."
Pachter originals have been acquired by the Art Gallery of Ontario, the Canadian Embassy in Washington, the Musée d'art contemporain, Charles Bronfman, Peter C. Newman and Pierre Trudeau, among many others.
Charles Pachter's speech, "A Romance with Canada," will take place Thursday, October 16, in the Henry F. Hall Building's Alumni Auditorium, 1455 de Maisonneuve Blvd. W., starting at 7:15 p.m. Admission is free for students, $8 for others.
---
[ Concordia | CTR Home | Welcome | This Issue | Stories | The Editor's Desk ]