Come play in the Interactive Playroom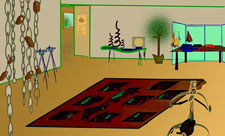 Rosemary Mountain is going to unveil her Interactive Multimedia Playroom at the EMS-05 conference. It's part of her drive to let the listener into music that often has no melody, no rhythm, no ambient comfort zone — essentially, nothing for the listener who wants to be moved.
She said people care more about the aesthetics and function of the music they are listening to than some computer composers realize or care to acknowledge.
"Music can be enjoyed for its passive entertainment value, for its danceable qualities, as an exploration of a technique or process, or for its abstract design."
Incorporating sensors to give the listener some control over the sound could be a way to make electroacoustic music more accessible.
The Playroom will be presented as part of the ESM-05 conference, on Oct. 17 and 18, in Room 10.515 of the new the EV building. Here's how she explains it:
"The Playroom is designed to be a welcoming place where people will enjoy exploring sounds and their effect on our perception of images.
"Visitors to the installation will have a chance to play with a number of small objects which are each linked to a different short sound or video clip or still image. By scanning the barcodes on the objects with a wireless Bluetooth scanner, the visitor will be able to mix and match sounds with images in any number of ways.
"In addition, participants are encouraged to try to sort the sounds and/or images in one of two main ways, either by gathering similar ones together in trays or baskets, or by placing them in a three-dimensional grid.
"The grid, modelled on the standard cube used by psychologists in similarity ratings, is constructed very simply by a number of plastic chains hanging from the ceiling to the floor which delineate a large section of the room. The vertical chains are just far enough apart to walk in among them. The three axes of this space can be anything the participants choose: simple/complex, abstract /representational, identifiable/ non-identifiable, for example.
"Because each of the objects has a hook, the 'player' can hook the object on any chain, at any distance from the floor to as high as they can reach. Thus they can position each clip on the grid represented by the chains.
"What we expect is that when someone tries to sort a number of clips, they will start paying attention to aspects of the sound or image which they might not usually notice except at the subliminal level. Also, when more than one person is involved, there will likely be some disagreements on where a clip should be placed.
"We anticipate the discussion that emerges from people's attempts to sort the clips and justify their sorting to others will reveal many interesting things about our perception of sound and multimedia.
"People will realize how much information a sound holds, as they see how juxtapositions with different images can range from 'perfect fit' to hilariously inappropriate, with many subtleties emerging in between.
"They may also realize that our language for discussing sounds and sound/image interactions is very underdeveloped. Our team includes members from various disciplines who believe that this unusual format for research will be very stimulating."