Grads get great reviews at Montreal World film Festival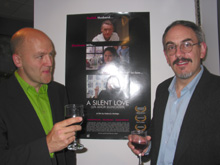 Elles était cinq, a feature by Ghyslaine Côté , was chosen to open the Montreal World Film Festival on August 26, and opened in Quebec theatres the following day.
Although it is a dark drama about rape and its lifelong blight on a young woman's life, a unusual choice to launch a film festival, it garnered solid, positive reviews.
It is the second feature by Côté since she left Concordia in 1985. She has scripted several short films for young audiences, and her short, Pendant ce temps, was nominated for a Prix Jutra and a Genie award in 1998. In 1999, she directed the feature Pin-Pon, which was nominated for two Jutras.
Federico Hidalgo, who teaches at the Mel Hoppenheim School of Cinema, celebrated the Aug. 29 Canadian premiere of his first feature film with its Toronto producer, Pascal Maeder. Both are Concordia film production graduates, and the film is a Mexican-Canadian co-production that got a great review in The Gazette.
A Silent Love is a sophisticated love triangle, and Hidalgo said it was gratifying to hear the audience's appreciative chuckles at the festival screening.
The story concerns a Canadian man, played by Noel Burton, who meets a young Mexican woman through the Internet. He goes to Mexico to court her, and she agrees to go back with him to Montreal as long as her mother can go, too. Then the trouble begins. . .
Hidalgo wrote the script with his Mexican-born wife, Paulina Robles, and it won awards in Miami and Brooklyn. A Silent Love opens in a regular Montreal run on Sept. 10 at the AMC Forum and the Quartier Latin, and goes on to Vancouver, Toronto and New York.
Before making films, Hidalgo worked as a performer, writer and director in theatre improv, political cabaret and traditional drama. While he was at Concordia, he made a several award-winning short films.
Maeder has produced a number of films: Motel, 1993, and Between the Moon and Montevideo, 1999, and SPIT: Squeegee Punks in Traffic, the documentary by Concordia alumnus Daniel Cross.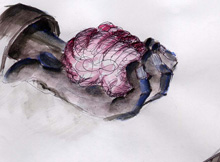 In the student competition that is part of the WFF, congratulations go to Dominic Étienne Simard, in third-year film production, who won the award for best animation for Pourquoi Moi? There's a sample in CTR online, at ctr.concordia.ca/ehs