New crop of Cal Potter Fellows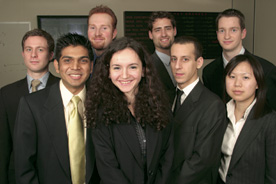 A graduation reception was held in July for the latest class of Calvin Potter Fellows at the Montreal Athletic Associations newly renovated quarters on Peel St.
Left to right, at the back, are Jason Sutton, Myles Hiscock, Michael Marcotte and Matthew Devlin. In the front row, Vishal Patel, Raluca Petrescu, Lior Srulovicz and Isabel Chan.
The eight students are fund managers in the Kenneth Woods Portfolio Management Program in the john Molson School of Business.
The KWPMP students gain valuable practical experience by managing an actual portfolio, thanks to the generosity of Mr. Woods, and they benefit from the mentorship of a client committee of seasoned professionals.
Last year, the students placed first in their division of a portfolio competition at the University of Dayton, Ohio, among more than 30 other business schools from the U.S. and Canada.
This was the third crop of Calvin Potter Fellows, so named in honour of a much-loved business professor at Concordia. Students were quick to praise their own guiding spirit, Finance Professor Abraham Brodt, who is the KWPMP program director.