Dinner held on Bay St. for Goodman Institute's first class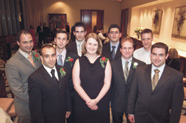 It's unusual for Concordia graduation parties to be held outside Montreal, but on Aug. 7, a celebratory dinner was held on the 27th floor of a sleek skyscraper in Toronto for the first graduation of the Goodman Institute of Investment Management.
The program is more challenging than most of its competitors, because it requires students to complete levels I and II of the CFA program. All the students are focused on careers in investment and are working toward their acceptance as certified financial analysts.
Professor Alan Hochstein, director of the Goodman Institute, says recruiting has not been difficult, "because we have a unique product - a niche, some might say. However, we are still not known. We have hired a public relations person to help us recruit in Toronto."
It's a three-year program, longer than most other privately run Master's of Business Administration programs.
Currently, 62 students are enrolled. That is almost as many as can be accommodated, because the program is conducted simultaneously in Montreal and Toronto by videoconferencing combined with classroom lectures. The teachers shuttle back and forth to give the students equal opportunities for face-to-face discussion.
The cost to the student is $16,000 per year, a total of $48,000 for the program, which Hochstein said is in line with other private programs. Queen's program is $62,000 and York's is $75,000.
"Ours is an extremely costly program to run, with professors travelling every week, staying in hotels, and so on," Hochstein said. "I see our fees rising in about two years to allow us to break even."
Despite the high fees, the program has lost money each of the three years, and is expected to lose money again this year. However, this shortfall was anticipated by alumnus and benefactor Ned Goodman when he set up the program and specified the inclusion of the CFA component.
Scotiabank has given the Goodman Institute $25,000 a year for 10 years. This provides cash awards of $5,000 to the best first-year student, $5,000 to the best second-year student, $5,000 to the best student in the third year alone, and $10,000 to the third-year student who had the highest GPA in the entire program.
"We have consistently doubled the world pass rate in all levels," Hochstein said proudly, " and we can do better, as we get more proficient in admitting better students."
Hochstein has noticed that the students can be very good in class, but if they don't study the extra bit and do additional work, they will not obtain the CFA pass required.
"My impression is that the strong students do well in the classroom and pass the CFA. The weaker ones do well in the classroom but do not pass the CFA exams."
The Institute recently signed a contract with Beijing Normal University.
"We will have a special China cohort and they will not be part of the regular stream," Hochstein explained." The first year will be offered in China, with professors accepted by the director. Then, when the students in Beijing Normal pass our courses and CFA level I, they can come to Montreal to study here for years 2 and 3."
Two Concordia professors, Stephen Wong and Mohammed Kamzan, are already in China teaching these students, while Cynthia Law, Assistant Director, International Programs, holds the administrative fort here in Montreal. The first group of Chinese students is expected here next September.