Campus tour helps students find their feet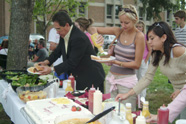 It's 7 in the morning and nervous students are drinking the first beer with their new friends. Within an hour they will be rolling over each other covered in chocolate syrup.
"The games are designed to embarrass everyone," said Peter Schiefke, the VP student life for the Concordia Student Union. "It has a levelling effect."
Starting university is a big step, and beyond the frosh initiations, Concordia provides many services to ease the transition, not least of which is the campus tour.
The smiling faces at the Welcome Centre are the first ones many new students see; in fact, these are often the only Concordia staff prospective students meet. There are campus tours year round, but the rush is in early September, when school gets under way.
One strong impression they get is that Concordia has more resources than they ever imagined.
With no more than three students per tour, guides are able to tailor the walk to their specific interests. Journalism students discover there is a radio station on campus, while Fine Arts students get to see the various galleries where their future work will be displayed.
"We cut their search time in half and they are amazed at how welcoming we are," said Joanne Spinelli, the Welcome Center co-ordinator.
"Many out-of-town students come to see McGill, but leave considering Concordia as a great option once they find out about us and take a tour."
A big concern for incoming students is whether they will be able to integrate.
On every tour there is a stop at the student union office in the Hall Building, which is where they learn about student political groups on campus as well as the more than 80 active clubs. Next year they don't have to be the ones rolling in chocolate syrup - they can be the ones telling others to do it.
Boston native Joanne Matte is looking to study business at Concordia in 2005, but her concern is one that many prospective students have - the lack of residence space. In a school with roughly 29,000 undergraduates there are only 144 spaces, all on the Loyola Campus.
Parents are relieved to discover that Montreal's rent is still one of the lowest in Canada. Nevertheless, many see living in residence as a being a crucial part of university life, and it can often be a deciding factor between McGill and Concordia.
According to the guides, it is generally the international students who appreciate the tour the most. Their questions range far beyond the university and cover the city, the culture and overall quality of life. In the United States, taking a tour of a potential university is a must.
"American students take dozens of tours and actually buy books on universities - it's part of their culture," said guide Savvy Papyiannis. "It's not as important to Canadian students, but if I had taken a quick tour when I first got here, I would have been much more prepared."
Scared, lost, but excited, thousands of new students took to the hallways for the first time this week. Whether or not they took a tour could be the difference between being early for their first class - or 10 minutes late.
Journalism student Colin Bateman worked as a tour guide this year.