Disabled get free wireless phones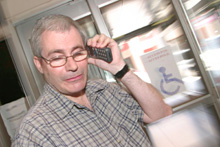 Students with disabilities will be given new wireless phones this semester as part of an initiative of the Office of the Vice-President, Services.
The program, administered through the Office for Students with Disabilities (OSD), will give about 100 students with mobility, visual and health-related conditions the ability to make local and other toll-free calls from within campus.
"I am pleased and excited that Michael Di Grappa has taken the initiative to implement this fabulous program. It is a wonderful example of collaboration between the Office of the Vice-President, Services and OSD," said Leo Bissonnette, the OSD co-ordinator.
For Teri-Lee Walters, a mobility-impaired Human Relations student at Concordia University, the free wireless phones provide a much-needed sense of security.
"It's a way of keeping in touch. If my wheelchair breaks down, I can call someone."
Walters, president and founder of Access Concordia (a student association representing students with disabilities) feels the program will prove useful in situations such as building evacuations.
Feelings of anxiety, she said, are a normal reaction when wheelchair-bound students are forced to wait at special exits for an evacuation chair, hoping Security will locate them.
"Now I feel very secure knowing I have this phone and that Security can locate me in case of emergency."
Bissonnette echoed the benefits of improved communication with Security. "Sometimes a student in a wheeelchair needs Security to open a door, or assist them with an access lift, especially at Loyola Also, if shuttle buses are delayed, students will have ready access to the handset to call while waiting for the bus."
Bissonnette feels the phones are also important for parents, guardians, spouses and others, including OSD staff, to get in touch with the students.
"It's a great way for them to keep in contact with us when they need support. With the OSD office closed after 5 p.m. and classes still going on, it's an added level of communication." The phones provided by IITS will also feature free voice-mail for all users.
Students will retain their Cisco wireless internet protocol (IP) phones throughout their stay at Concordia, renewing each year. The phones are functional on campus wherever wireless coverage exists. Currently, this includes most common areas on both campuses, with coverage being constantly expanded upon. Walters said she would be first in line for her free wireless phone. "I'm very proud of Concordia University for taking this initiative. It's the first of its kind."Eligible students may apply for a wireless handset at the OSD Web site: advocacy.concordia.ca/disabilities. Inquiries to osdgen@alcor.concordia.ca or 848-2424, ext. 3525.