David Elliott's paintings have zest for life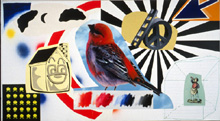 David Elliott has a solo show in the Belgo Building on Ste. Catherine St. Artist is just one of the many hats he wears, the others being father, teacher and academic administrator, but it's what defines him, and its stamp is sunny and imaginative.

Elliott came to Montreal to do his MFA at Concordia in 1977 from Ontario, and has been here ever since. His paintings have been shown in galleries and museums from Montreal and Toronto to Mexico, Taiwan and the Czech Republic.

He has taught at Concordia, one way or another, for 25 years, and is currently chair of Studio Arts.

Being a working artist amid the chaos of family life was challenging — he and his wife had four children in six years — but "I'd put the kids to bed and then go off to my studio. I don't mind. I love working." His current studio is in Little Italy.

The four children are pretty much grown up now. The eldest daughter studied theatre design under Ana Cappelluto at Concordia, and is now in Los Angeles at graduate school. The second eldest is studying photography.

Elliott himself did a minor in film at Queen's before becoming a painter, and notices references to film in his work. Cross-referencing in art is common now.

"There's a lot of gaming, of quotation," he said in an interview. "A painter might touch on a painting from 30 years ago, or a pop song. Writers do it, too — John Irving admired Dickens, and Kurt Vonnegut, Jr., loved Mark Twain. I like that kind of dialogue."

In his own art, he reorganizes familiar images, such as birds, flowers, portraits, buildings and patterned backgrounds to celebrate life. As he said in a published conversation with other artists in 2002, "You strike a deal between who you are and the language and culture that, if you are educated, you know is there. We all broker the deal in a different way."

He added, "Picasso came from a generation that learned the craft [of academic painting] and rejected it. We come from a generation that didn't learn the craft and has been forced to re-invent a language that we were denied in art school."

In his classroom, Elliott likes to talk about craft and technique. He calls the canvas a "metaphysical spatial container."

Associations with creators of the past, especially the recent past, find their way into his teaching. He started a course called Painting and Popular Culture. While the students know more than he does about Japanese animation, he can bring in the films of Jean-Luc Godard, and the relevance of advertising and digital manipulation.

"I have some terrific students here," he said. There are always others who are still finding their way. "I worry about their commitment sometimes. They come for different reasons, I suppose, but they don't realize that you have to put the hours in."

Elliott is in touch with former students, the earliest of whom are now in their forties. "They're doing OK. Some of them are selling everything they do." You don't become an artist for the money, he said, but it's great to know that some are earning rewards and recognition.

The artist had polio as an infant during the epidemic of 1953, and it affected his legs. For most of his life he used crutches, but in recent years, post-polio syndrome has affected his upper body, so now he saves his arm strength for painting, and uses a wheelchair. A 30-minute documentary about his work, Shaping Art, was broadcast last February on Bravo.

David Elliott's paintings can be seen at the Joyce Yahouda Gallery, 372 Ste. Catherine St., until Nov. 6. For hours, please call 875-2323.