Biography of a successful Irish Montrealer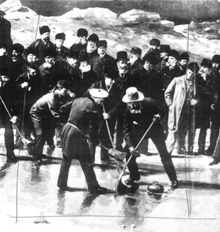 A biography was launched last night at the historic Marché Bonsecours in Old Montreal about a remarkably successful Montrealer. The guest list included Prime Minister Paul Martin, former PM Brian Mulroney, Mayor Gérald Tremblay and former premier Daniel Johnson.

The book is Sir William Hingston, 1829-1907: Montreal Mayor, Surgeon and Banker. While Concordia is too young to have figured in his life, the university has historical connections to the Hingston family, and these were well represented at the occasion.

The book was commissioned by Brian O'Neill Gallery, great-grandson of Sir William, and like him, a mayor, though of Westmount, not Montreal.

The affable retired businessman has been a key figure in establishing a $3.5 million endowment to support Canadian Irish Studies at Concordia. Until this massive fundraising was undertaken, Canada's deep Irish roots were something everybody knew about but nobody had explored in a coherent academic fashion.

Thanks to the endowment, which includes donations from the governments of Ireland, Canada and Quebec as well as private money, courses are being given, speakers invited and scholarships awarded. These cross many disciplines, including film, literature, history and geography.

Sir William Hingston was chief surgeon for 25 years at the Hôtel Dieu Hospital, and served two terms as mayor in the 1870s. He was president for 11 years of the Montreal City & District Savings Bank (now the Laurentian Bank), after which he was an author and senator.
As history professor Graeme Decarie says in the foreword to the book, Montreal in those days, perhaps more even than now, was a city of communities.

"In the 19th century, the English-speaking were divided into English, Scots, Irish and Welsh; and those were divided into Anglican, Presbyterian, Methodist, Roman Catholic and Baptist, with many of those subdivided into sects.

"Some, if few, French were Protestants; but there was nothing monolithic about the remaining Catholic majority. It was profoundly divided between the ultramontane zealots of Bishop Bourget, and those who followed more moderate leaders."

A civic leader who was English-speaking and Catholic, Hingston was caught up in these religious and tribal allegiances, and negotiated them with finesse. He also faced extraordinary challenges in public health.

"Slum streets were filthy with garbage and with animal droppings," Decarie writes. "For the poor, a pig raised in the home might be the family's only meat. Add to that an appalling quality of market food … and miles of open sewers running through the streets. Montreal was ranked among the unhealthiest cities in the world, as smallpox, diphtheria, tuberculosis, cholera and typhoid visited the city. In fact, Montreal's infant mortality rate was still the highest in the world well into the 20th century."

Hingston was ideally placed to improve Montreal's public health. He ordered mass vaccinations against smallpox, despite strong resistance, and established the city's first board of health. He was a key figure in education as well, fighting off a challenge from the Université Laval to establish what became the Université de Montréal.

One of his sons, William, became a Jesuit priest. He became rector of Loyola College in 1918, when the College was near bankruptcy and people were exhausted by a vicious four-year war and an influenza epidemic.

Hingston launched a fundraising campaign, separated the college from the high school, revamped the
curriculum, and set Loyola on a course from which it never looked back. His name went on the residence built on the Loyola Campus many years later.

Gallery was delighted with the book, whose author, Alan Hustak, of The Gazette, uncovered facts about his great-grandfather that he didn't know.

His favourite image of Hingston, however, is of a student riding a horse into the riot in which Canada's parliament buildings in Youville Square were burned by a mob, and saving the mace from the conflagration.

Proceeds from the book will go towards the Sir William Hingston Scholarship in Canadian Irish Studies. It costs $39, and may be ordered from Price-Patterson Ltd., at michaelprice@pricepatterson.com, or (514) 935-8154.