Hockey games provide welcome fix for NHL fans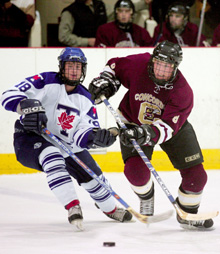 Westmount resident David Eves says his son Tristan, 11, learns to improve his hockey skills by watching the Concordia Stingers play.
Bruno D'Amico, who toiled for the Sherbrooke Faucons of the Quebec Major Junior Hockey league for two seasons, says university hockey is "fast-paced quality entertainment" and "better hockey than the semi-pro league."
All three hockey fans were part of the crowd at the Ed Meagher Arena last Saturday afternoon as the Stingers rolled over the Ryerson Rams 8-2 in CIS action. While they all agreed that they missed watching NHL hockey — the pro players have been locked out by the owners, threatening the whole season — they say that watching top-notch university action fills the void.
"I bring my son here to watch as many games as possible," said Eves. "Their level of skill and positional play is good and Tristan learns from it and uses it when he plays peewee hockey.
"I just wish more people would come out," he continued. "University hockey should be publicized more. The NHL and the salaries are out of control. I was surprised at how good the Stingers and the league were when I first came out. It made a fan out of me and my son."
That is music to the ears of Stinger head coach Kevin Figsby, who has always described the university brand of hockey as the "best-kept secret in town."
"Last Friday we must have had more than 800 people in the building to see our game against Toronto (a 10-3 win)," he said. "Slowly, I think people are realizing that they won't be disappointed if they come see the Stingers play. If we can get them through the door once, they'll be back."
Concordia has also had visits from a number of the locked out NHL stars who have come to practise with the Stingers and offer a little encouragement. Saku Koivu, Jose Theodore and Craig Rivet have been among those invited.
Having guys like that here has been great for our program and for me personally as a coach," Figsby said. "I got a message on my phone the other day from Theo. He said 'Hey, coach, it's Jose! Do we practise today?' I think I'll keep that one on my machine."
Stinger assistant coach Peter Bender would also like to see more people come out to the games.
"For about $20, a father or mother can bring the kids, buy the tickets, some food, park for free and see some quality hockey," he said.
"Our players always appreciate it when we get large, noisy crowds. We played an exhibition game in North Dakota last year and there were 12,000 in the stands. I know that can't happen here, but more people need to get turned on to university hockey."
Part of the problem, according to the coaches, is the lack of publicity surrounding the game in Montreal.
"It makes me sick when I read about the semi-pro league on the front page of a local daily newspaper," Figsby said. "Also, don't you think TV networks like RDS and TSN could broadcast some university games? What's the problem? Our win over McGill last week was great up-and- down-the-ice hockey from start to finish.
"Our division has been the best in Canada for a number of years," he continued. "Come out to our games and we promise a good show!"
Joey D'Amico led the way Saturday for the Stingers, scoring four goals against the hapless Rams. He also scored the night before against U of T and was flying on all cylinders.
"Joey is our leader," Figsby said. "Today you saw what he can do. He could have had six or seven out there today."
Frederic Faucher had a goal and two assists for the winners.
The next home game for the Stingers is Friday, Nov. 26, when York visits for a 7:30 p.m. start.