This is my sand, asserts art student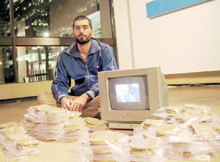 Haïg Aïvazian is a final-year Fine Arts student completing a double major in Studio Arts and Design. He presented a piece in a show at the VAV Gallery that expresses issues he deals with from "a background of exiles" experienced by him and his family.

The work deals with the loss of a person's homeland, no matter where it is.

Haïg, a Lebanese-Armenian, is an international student who was living in the United Arab Emirates before he came to Concordia, where his family went after being forced to leave Lebanon because of the war. It was the Armenian family's second displacement.

The piece included "sandwiches" he made using sand placed in plastic food bags arranged like sandbags in a barricade. He said he didn't think the "sandwiches" would look so much like bread.

They were accompanied by a video showing an angry man on the West Bank in Israel whose home is being taken down. He places sand in his mouth and says, "This sand is my sand."

Haïg said the issues he raised in his piece "can apply to any place in the Middle East. Any place means homeland to somebody."