Concordia archivist recreates Montreal's glory days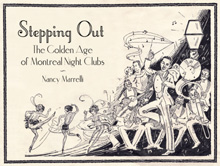 Nancy Marrelli, Concordia's Director of Archives and co-publisher of Véhicule Press, has just released a book chronicling the three-decade stretch considered to be the pinnacle of Montreal's nightclub industry.
Stepping Out: The Golden Age of Montreal Night Clubs, 1925-1955, published by Véhicule Press, details the entertainers and night clubs that made the city swing in an age before television, a time when Montrealers of all stripes headed out to the city's clubs for music, cocktails and dancing.
"The clubs were anywhere from restaurants with a stage to a real nightclub where people sat around and drank and danced," Marrelli said. "Some were old vaudeville theatres, some were basically bars."
The city's night scene owed much of its vibrancy to the US. When Prohibition began in America and the rumrunners headed south, a steady stream of musicians and entertainers migrated north to turn Montreal into Canada's entertainment capital.
The city's night club scene flourished in the 1930s and 40s. However, many of the clubs were ruled by Montreal's powerful underworld, and when mayor Jean Drapeau came to power in 1954 he moved quickly to shut these down. Suddenly, musicians found it exceptionally difficult to make a living in the city, and a period in Montreal's history came to an end.
Marrelli's book began as an exhibition to accompany last spring's display of Jack Beder's paintings — some of them depicting Montreal nightclubs — at the Leonard and Bina Ellen Gallery. During the course of her research for the show, it became clear to her that she had enough material to put together a book on the subject.
"It was something I've wanted to do for a long time," she said. "There are so many wonderful treasures in the archives about Montreal night clubs that don't get seen."
Stepping Out expands on the original show, and includes photographs of materials that are difficult to display.
Marrelli arrived at the archives in 1982 and soon after, at the request of the Music Department, the institution began collecting documentation about Montreal's jazz history.
"Archives are like pieces of a jigsaw puzzle," she said. "The more pieces you have, the better the picture is going to be. We've been collecting in this area for a long time so we have lots of pieces of the puzzle."
Stepping Out was one way for her to show a part of the picture. It was also a natural fit for her role as co-publisher of Véhicule Press. The Montreal-based press has been committed to publishing books which describe and contextualize the city's history.
"This [book] gives some kind of understanding of what kind of city we were, where we were, what we did, what people did for entertainment, who came here, and how people thought about it all," said Marrelli.
The book includes maps of the old club locations. Some of the clubs still remain in different reincarnations. The ritzy Club Lido of the 1930s became the classic 1950s nightclub Chez Paree. It is now Chez Paree, a strip joint or "gentleman's club" on Stanley St.
Nancy Marrelli will be speaking about Stepping Out at the Books & Breakfast reading series on Sunday, Nov. 21, at 10 a.m. at the Omni Hotel.

She will be joined by author Jeffrey Moore and Gazette cartoonist Aislin. Tickets are $27. Call Paragraphe Bookstore, 845-5811.