United We Create, say artists who work with The Collective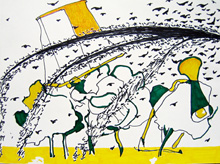 Each Friday morning, a group of Fine Arts students and alumni gets together for a session of collective art-making, and you never know what's going to come out of it.
After a theme is selected, one artist starts each piece, using various painting and drawing techniques. Then it is passed to the next artist, who takes over the work and guides its themes and images along, or radically changes it by shifting it in an entirely new direction.
After a piece has been through the hands of four or five artists, it can look radically different from how it started. It takes a substantial amount of trust to work on a piece and then pass it to somebody who wants to put their mark on it, to make it their own as well.
Themes so far have included serious topics such as Obsession and Stress, but also whimsical ones like I Wish I Could Fly and Spiny Monsters.
Artists are used to working on their pieces on an individual basis, and to not have anybody else touch them without permission. The collective process breaks down the sense of individual expression being the ultimate goal of art, and leads to the idea that art works can be stronger when more than one person works on them.
The Collective is operating in collaboration with the Studio Arts department, which is providing a drawing studio one morning a week, as well as funding for materials. The Fine Arts Student Alliance is a co-sponsor of The Collective this year, and provided funding for materials and a budget for interactive collaboration projects involving the wider student body.
Independent study
François Morelli, associate professor in Studio Arts, is helping advise The Collective as part of an independent study Drawing 470 course with Robert Winters, who is co-ordinating the collective. Morelli, whose work was shown at the 2002 Montreal Biennale, an international art exhibition, says one of his favourite art collaborations was work he did when his son was five years old.
He said art collaboration requires "a willingness to come together to do something together." But being a member of a collective doesn't mean each artist puts aside their individual experiences, Morelli said. "You're still responding to what's out there, so it's still an individual experience."
This suggests the importance of each individual using their strengths to contribute to the success of a larger whole, a key part of the collective art-making process.
As well as working on its own, The Collective also intends to lead wider collaborative projects involving Fine Arts students, alumni and other artists.
A website is planned that will allow artists to work on collaborative pieces online, no matter where they live, opening the possibility of co-operation with other universities, for example, where Concordia graduates are studying at the master's level.
When members of The Collective talk about what brings them together, they often speak about the simple enjoyment of drawing or painting togethe. They chat about their lives and preoccupations, and find out what the others are doing and planning.
Rodrigo Marti, a third-year painting and drawing student, says just enjoying working together can be enough of a justification for the collective art-making process.
Other members of The Collective are David King, Robert Turenne, Chantal Musgrove, Bea Parsons, Emily Stoddart, Sonomi Tanaka and Jarmila Kavena.
Some artists, such as Simone Rochon and Juliana Espana Keller, are also affiliated with the group.