A Radiance of Voices just before the holidays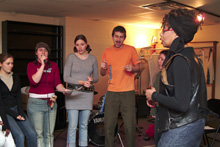 Fifty students will raise the roof — a true Radiance of Voices — when Jeri Brown's students give their annual pre-holiday performance in the Oscar Peterson Concert Hall on Nov. 24.
The program includes Antonio Carlos Jobim's Chega da Saudade, in Portuguese and English, Vaughan Williams' The Vagabond and favourites from the opera repertoire. Brown's choir, the Con Chords, will do a medley of jazz standards.
The Jeri Brown said her Master Class Series is a new feature this year. "The Master Class Series is open to the public, and in a short time has generated as many as 20 singers meeting on a regular basis on Tuesdays at the Oscar Peterson Hall.
"Their projects cover standard ballad work, Latin material, medleys, and jazz swing. There is even a vocal sound machine choir assembled as part of the sessions."
Brown herself is an accomplished recording artist. She sang selections from her nine compact discs at Club Soda during the Montreal International Jazz Festival last summer.
Her most recent CD is Firm Roots, which was nominated for a Juno, and she performed at the gala for the Junos, Canada's music awards, in Edmonton.
She is working as musical director on Québécité: A Jazz Opera, and putting together a one-woman show about one of her idols, Nina Simone. She just finished a tour with performances in Vancouver, Edmonton, San Antonio, New York and Lisbon, Portugal.
A dedicated teacher, she has seen former students go on to successful careers. "Two names come to mind," she said.
"Dawn Tyler Watson combines acting and singing with emphasis on jazz and blues, and has several awards to her credit. She is one of several of my students who keep regular communication with me.
"And then there's Chimwemwe B.D. Miller, star of [the recent Black Theatre Workshop production of the one-man show] Tightrope Time, who combines acting and singing jazz and contemporary music.
A Radiance of Voices will be presented Wednesday, Nov. 24, at 8 p.m. at the Oscar Peterson Concert Hall. Accompaniment is by Robin Grieg. Tickets at the door only: $5 general admission, free for students with ID.