Engineers help an artist access her virtual worlds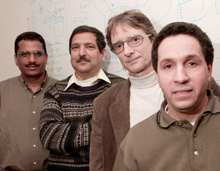 An artist's need for a clearer vision has jumpstarted a multidisciplinary research effort between Concordia and the Université de Montréal.
Char Davies, a Montreal and San Francisco-based artist, has been creating virtual reality environments since the mid 1980s.
However, technology has not kept pace with her vision; she found commercially available virtual reality systems too limiting for her work. The head-mounted displays are either too awkward in gallery settings, do not give a high enough graphical quality, or only support a limited range of view and diminish the feeling of immersion.
Computer science professor Sudhir Mudur has stepped in to help. He will lead a multidisciplinary team of three other professors in collaborating with Davies to create a new head-mounted display system for use in three-dimensional virtual art exhibitions.
The group has received a three-year grant from NSERC for $425,000 under the auspices of the program's new media initiative. The team — Ahmed Seffah (Computer Science), Rajamohan Ganesan (Mechanical/Industrial Engineering) and U de M researcher Philippe Lalande (Industrial Design) — will attempt to create a prototype of a suitable head-mounted display.
Most head-mounted displays are either intended for military training or medical purposes, where the user wears the display for long periods of time, or they are designed for video games, where images are of lower quality.
A gallery setting requires a head-mounted display that is light, easy to put on with a minimum of adjustments, robust enough to withstand large amounts of use, and with a wide field of view to rapidly give an immersive experience.
The team will use an older virtual reality art work by Davis to test their designs. This will likely be a 1995 installation entitled Osmose, a 15-minute interactive journey into several metaphor-filled semi-abstract worlds such as forest, pond, subterranean earth, and abyss.
"From a training perspective, I think it's a very good project," Mudur said. "Students will get trained in a multidisciplinary environment."
For the researchers, though, such environments come with a cost. "There is always a communications overhead, and it takes time getting to a common ground."
However, Mudur credits ENCS Dean Nabil Esmail and Fine Arts Dean Christopher Jackson's seed grants for interdepartmental research for creating an atmosphere that fosters multidisciplinary collaborations.
Working with an artist will be a challenge, said Seffah, who will be in charge of conducting all the usability and user- oriented studies. However, the experience will be beneficial, and he can transfer skills to a new collaboration with Fine Arts professor Jason Lewis. Funded by an ENCS-FA seed grant, they will design an interactive tabletop screen.
While it is still far too early to predict how industry might react to the research into virtual reality head-mounted displays, Mudur believes that the commercialization potential of the final product could be quite high. It is also research which could only be done in an university environment.
"Half a million dollars is actually a low cost for this," he said. "All the expertise is already here; we are using existing laboratories.
"Commercially, nobody would be willing to invest large amounts of money in this. Industry as a whole only caters to large markets, and artistic needs do not fall into large markets. Meeting these needs will be our challenge."