Celebrating pioneering Canadian women journalists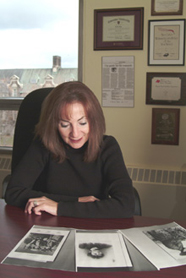 Linda Kay didn't set out to become a university professor, but she's making the transition by studying other pioneering women like herself.
Kay was one of the first women sports reporters in the U.S. and won a national award in 1984 for being the best in a small but highly competitive field. However, she has since discovered that Canada had women sports reporters 40 years earlier, back in the 1930s.
Intrigued, she decided to look at Canadian women journalists. She stepped up her research last year when she got wind of the 100th anniversary of the Canadian Women's Press Club. The reunion, which took place in Ottawa in June, drew women from across Canada, and Kay was there with a videographer to record it.
The result is a 20-minute documentary called Women of Daring, which she is using as a teaching tool and plans to develop into an hour-long version.
The Press Club reunion was inspiring. "Many of these women were still working, including one who was 94. The club was really strong and professional. Why don't we know about these women?"
Despite the fact that most them were never treated with due respect in the newsroom or by the public, their influence was considerable. "They really were not wanted, [but] they covered clubs, and this included political lobbies. Many became activists."
As social barriers finally fell in the 1970s, the need for a separate women's organization diminished, and the Women's Press Club actually folded its national operation after the 100th anniversary weekend.
Kay received her master's degree in media studies in 2001, and used a seminal event in her own career in the 1970s as her thesis topic.
She studied magazine writing at Syracuse University, and got a job on a daily in Paterson, N.J. That was where three murders were committed in 1966, supposedly by boxer Rubin "Hurricane" Carter. It was a celebrated case. Bob Dylan wrote a song about it, and several books and a movie resulted from his eventual pardon.
Carter had been in jail for eight or nine years when Nelson Algren came to town to write about it for Esquire and Playboy, which were then at the height of their powers.
Kay, a 22-year-old in her first job, knew who Algren was: author of bestsellers (Man With a Golden Arm), a tough-talking, much-admired Chicagoan and the one-time lover of Simone de Beauvoir. She followed him around Paterson and wrote stories about him and the Carter case for her somewhat doubtful editor, becoming something of a cause celebre herself.
The editor of a San Diego daily took notice, hired her and groomed her for the sports pages. In 1980 she moved to the Chicago Tribune and was writing a column when she met a French-Canadian on holiday in Mexico. Eventually she followed him to Montreal, where they married and raised a daughter.
Kay was initially hired as an instructor by Concordia's Journalism Department, which depends heavily on
part-time teachers with journalism experience. She became director of the graduate program in 1999 and a tenure-track hire in 2001. The department is upgrading its scholarship to match its practical training, and Kay's research is part of her requirement to achieve tenure.
As stringer in Quebec for the big U.S. magazine Newsweek, she's still doing journalistic research, but the academic world has different standards of scholarship.
She talked glowingly about a workshop she took in course design through which she developed her first theoretical course, Gender and Journalism. It has drawn non-journalism students from across the university.