Generosity starts at home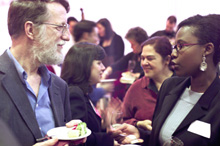 Professor William Reimer talks with an unidentified student at the Undergraduate Scholarship & Awards Reception, which was held Oct. 29 at the atrium of the Samuel Bronfman Building. The event had a record attendance of more than 200 faculty and staff donors and student recipients.

Four new awards were inducted, the Arts and Science Grad Class Program Graduating Student Award, the Concordia Memorial Golf Tournament Endowed Bursary, the Cary Boucock Memorial Award, and the Institute for Co-operative Education Scholarship. Thanks to the generosity of faculty, staff and students, $251,345 was available this year for these awards from the internal community.