Students' art bought to add to Stanley Mills Collection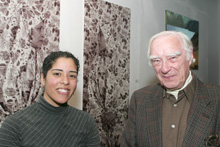 Fine Arts undergraduates gathered this week in the Visual Arts foyer to celebrate the sale of their work to the university.

The Stanley Mills Purchase Prize was made possible through a donation made in 1994 in memory of G.H. Stanley (Sandy) Mills, who was a lecturer in history at Sir George Williams University in the 1950s.

Mills was in the Canadian Navy during the Second World War, then attended Merton College, Oxford. He later became a biographer and confidant of Lord Beaverbrook, the press baron, and of Sir Winston and Lady Churchill. A supporter of the arts, he gave generously to help students.

He died in 1993 at the age of 70.

This year's crop of visual art students, each of whom had a work bought and hung in the VAV Gallery until Nov. 12, are Arwa Abouon, Frieda Abtan, Andrew Hogan, Sabrina Salazar, Theresa Sapergia, Ithamar Silver, Robert Turenne and Elena Willis.

The prize benefits not only visual arts students, but also those in cinema and the performing arts. The annual prizes are chosen by a jury, to a total value of $3,000.