Imagination to spare in animation show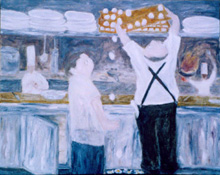 There's a real boom in both traditional and computer-aided animation in North America.

Students from the Mel Hoppenheim School of Cinema's film animation program held a show in the VAV gallery from Oct. 19 to 23. Focusing on eight students, the exhibition showcased the different styles of animation being explored today.
Eric Bond used the traditional cell style, in which the animator draws many images to recreate the idea of movement on the screen.

His exhibit, Sound Environments, was a dark and disturbing animated short that incorporated flashes of white between the cells, creating intensity and anxiety as the as the viewer the images play across the screen.

Phillipe Ivanusic played with the convention of traditional animation. Instead of movie images, he scanned the storyboards to a potential animated short, then added voice, sound effects and a score, and let the viewer use their imagination to fill in the gaps.

The exhibition didn't limit itself to images on screen. Many artists put up the drawings and ideas for animated films and short films. Others put up paintings, drawings and sculptures they had done.

Flash

One student, Liuyi Wang, a second-year animation student, brought in most of the work he had done while at Concordia. His animation included some shorts he did using Flash, a type of computer animation software.

One of the animated shorts, titled Sex-o-Matic, opted for the erotic, while another was of a stick-like figure trying to make his way out of an underground cave.

"It is very special to me," Wang said of his work. "I came here from China, and I have spent four years working on some of this stuff."

Wang's portion of the exhibit included paintings he had finished since coming to Canada. They were glimpses of the experiences he had coming here as an immigrant, including working in restaurants and a garment factory. "I'd like to put these together into an animation," he said.

Perhaps the most interesting piece Wang had on display were sculptures he had made out of old plastic anti-freeze jugs.

"I don't have much money, so I have to look for things to work with," he said.

When Wang turn the jug on its side, the handle took on the appearance of an elephant's trunk.

"It reminded me of the old story about the four blind men who discover an elephant, and by feeling different parts of its body, they think it is different things. The blind man who feels its thick leg and rough skin believes the elephant to be a tree."

Another sculpture was based on the story of a boy who had figured out how to weigh an elephant.

Several sketches that Wang had drawn were also on display. "These I do all the time," he said. "I'll do them in the metro, just sitting on a bench and watching people, or riding."

The following students were also involved in the exhibition: Jordan
Lallouz, Zeynep Ackay, Kim Anderson, Nala Laontaine and Peter Ricq.