Gazette gives awards to idealistic journalists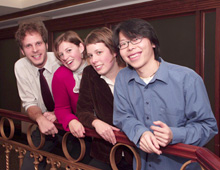 Every year, The Gazette gives awards to deserving students in the Diploma in Journalism program, and reaffirms its close ties with Concordia's Journalism Department.

Feng Qian was born and raised in Shanghai, and traces his interest in journalism to the student democracy movement at Tiananmen Square in 1989. He studied English literature at Shanghai International Studies University. In 2003, he came to Quebec and spent eight months studying French in Trois-Rivières before entering Concordia's graduate diploma program.

He won the Susan Carson Bursary, given in memory of a committed and courageous journalist who worked for 11 years in the Living Section of The Gazette. The award is based an academic achievement and financial need, and recipients must demonstrate high ideals, a concern for humankind and qualities of citizenship.

Alana Coates is a third-year student completing a major in journalism and a minor in women's studies. Her journalism has already taken her to Denmark, the Czech Republic and New York City. She hopes to land an internship in London next summer, and wants eventually to be a magazine writer.

Alanna won the Lewis Harris Memorial Award, given in honour of Lew Harris, a longtime reporter and copy editor from the Gazette who taught journalism at Concordia.

Lew Harris's two sons were on hand for the ceremony this year, and the award was presented by his widow, Marion Scott, herself a journalist.

The two Philip Fisher Bursaries, named for a former chairman of the Southam newspaper company and a long-time supporter of journalism education, went to Jonathan Pearce and Catherine Cullen.

Jonathan has a BA in anthropology from Concordia, and has travelled in Asia, where he developed an interest in globalization and development issues.

Catherine studied mass communication at the University of Western Ontario. She is determined to "help people care about each other and the world they live in" by working at a major daily newspaper.