New books are better gifts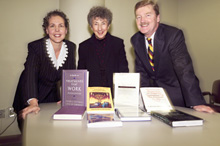 A generous cash donation has been made to the Library's acquisition fund by an alumna, Mavis (Leznoff) Lipman in memory of Campbell Perry, a professor of psychology at Concordia, who died in 2002.

Director of Libraries William Curran sees this as an opportunity not only to thank Mrs. Lipman, but to point out that she chose an excellent way to pay homage to a scholar following his death.

"Instead of simply having the Library take Dr. Perry's collection of old books, she chose to approach the Library with a donation earmarked for the purchase of certain books in a field of interest to him."

Curran said that to follow Mrs. Lipman's example, prospective donors should first approach the Library, find out what really needs to be added to the collection, then make a donation of money for the purchase of new materials.

"This is the preferred way of making a valuable donation to an academic library, because it ensures that new publications are added to the collection."

In this way, the Library's collection can thus be developed in a systematic way as new publications become available on the market and as need arises.

"We have already compiled a list and place some orders. When the books arrive, we'll have bookplates inserted acknowledging the donation in memory of Dr. Perry."

Mrs. Lipman's friendship with Perry developed out of their shared interest in false memory syndrome.

These dozen or so new books were carefully chosen by reference librarian Luigina Vileno to reflect the latest research and insights on the subject.