Plaque for energy savvy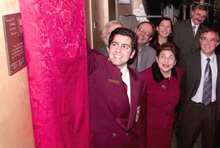 A group of administrators and others involved in the building of the Richard J. Renaud Science Complex welcomed the unveiling of a plaque on Oct. 19.

It acknowledges an energy-efficiency award given by Natural Resources Canada through its Commercial Building Incentive Program, which encourages building owners and developers to save money while they help Canada reduce greenhouse gas emissions.

To be eligible, the design must demonstrate a reduction in energy use by at least 25 per cent when compared to the requirements of the national energy code. The first operating year of the Science Complex saw an energy saving of 48 per cent, well past that eligibility mark.

The building has an unusual ventilation system that provides more fresh air than is required by industry standards.

Concordia is the only university in Quebec and one of only seven in Canada to have earned this honour. There was a tangible benefit, too: a subsidy of $80,000.