Rama Bhat is ready to rumble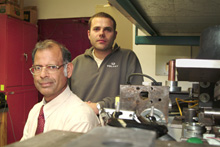 Rama Bhat's research is the kind that affects daily life but often goes unappreciated. Currently, he is studying rumble strips, the grated bumps on the side of the road that are meant to prevent accidents.

Bhat works in the fields of mechanical vibrations, the dynamics of rotating structures, and structural acoustics.

"I do both analytical and experimental research," he said in an interview. "I proposed a new way of analyzing the natural frequencies of structures by constructing a set of boundary characteristic orthogonal polynomials. They have been used by researchers around the world and have generated more than 150 research papers."

Rumble strips have a twofold purpose. On highways, they are used to jar inattentive or drowsy drivers awake if they veer off course, but Bhat studies the strips used on suburban roads that keep drivers from drifting over into bicycle lanes and the cyclists from veering off into car lanes.

He has ridden a bicycle since he was a high school student in the 1950s, so building cues that help cars from accidentally swerving out of the driving lanes is work he takes personally.

"The purpose of the rumble strips is to give enough vibrations and sound at the right frequencies to provide visual and aural cues. At the same time, they shouldn't be too uncomfortable if cyclists ride on them by mistake."

Citing a 1973 study on the safety effectiveness of several shoulder grooving treatments, Bhat said highway sections with the grooved shoulder had 80 per cent fewer accidents per mile involving vehicles that ran off the road.

"Such statistics are not available for rumble strips installed between the driving and the bicycle lanes. However, they are quite effective in avoiding accidents involving autos and bicycles," he said.

For the past two years, he has been working with colleagues Subhash Rakheja and Ion Stiharu and graduate student Marko Bajic and technical officer Dan Juras on a project with the Ministry of Transport. The team has been testing the rumble strips on a highway just outside of Mirabel, less than an hour northwest of Montreal.

Bhat has been at Concordia for more than two decades. He completed his PhD at the Indian Institute of Technology in Madras, and did his thesis on the response of structures to random acoustic vibrations.

He worked in the Indian Space Research Organization for four years, and then spent a year as a postdoctoral fellow with the Institute of Sound and Vibration Research at the University of Southampton, in the U.K. He came to Concordia in 1979 from an NRC research associateship at the NASA Langley Research Centre in Hampton, Virginia.

He is now Associate Dean of the Faculty of Engineering and Computer Science, and a professor in the Department of Mechanical Engineering.