Man and His Stomach: How we discovered new dishes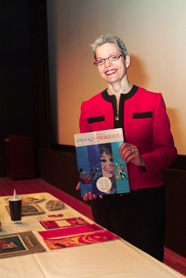 The whole world came to Expo 67 and brought their favourite dishes. One of the last great international world's fairs, held in Montreal in 1967, was a celebration of the future, with architectural wonders, innovative films, international exhibits — and great food.

Rhona Richman Kenneally, an assistant professor in the Department of Design Art, revisited the Expo
culinary experience in Eating Expo: The Food Culture of Montreal in the 1960s. She gave the lecture on Oct. 26 in the DeSève Cinema as part of Concordia's participation in the month-long CBC series Montreal Matters, whose theme this year was food.

"One of the most intimate ways we interact with the world around us is by eating," Kenneally said. "Those interested in cuisine were able to experience the whole array of international foods at Expo. You could have breakfast in Paris, go to England for a beer and then to Scandinavia for dinner. One food critic dubbed it Man and His Stomach, a play on the Expo slogan, Man and His World."

Organizers were savvy enough to realize food would be important, so they made special arrangements to allow the importantion of foods and products that would normally not have been admitted to Canada.

Expo 67 was a chance for visitors to travel around the world without leaving home and try exotic food at reasonable prices in a low-risk, familiar setting. You could hop the monorail to the Czechoslovakian pavilion to try a veal dish or have the Expo Express whisk you over to Mexico for chiles poblano.

In many ways, Montreal was the perfect venue for this international epicurean event. The immigrants who settled in the area brought their cuisine with them and created a mosaic of different tastes. Expo 67 heightened the experience by promising more variety and authenticity.

Speciality food and drink were flown into Canada. "The Bavarian beer hall had genuine Munich beer; the Cuban restaurant had rum flown in from Havana; drinks found at the Trinidad and Tobago pavilion were not sold anywhere in Canada and were brought in specially."

Having so many new and exciting foods readily available changed Canadians' relationship to food, expanding their tastes as well as their imagination. Expo encouraged everyone to join in the culinary adventure by providing an exciting and welcoming atmosphere.

"Because the environment of Expo was a reflection of architecture and ideals of modernism and was so focused on the progress of humanity in many fields, the idea of eating international foods was conceptualized as a modern practice," Kenneally said. "Food became a crucial vehicle for individuals to feel like they were being modern."
We have continued this relationship, which, as Kenneally pointed out, is rooted in a paradox. We feel modern because we are eating bona fide cuisine, which is all about following traditional recipes passed down through generations.

Of course, authentic was open to interpretation at Expo, and many dishes were toned down for public consumption, while others were not really eaten by the native population. Canada's pavilion was a perfect example. La Toundra restaurant had an Inuit motif with three "genuine Eskimo hostesses," and served such Canadian dishes as muktuk (white whale skin) and ilkalu (Arctic char).

In the end, it didn't really matter that some people left Expo believing that all Canadians munched buffalo burgers; it was the exposure to different food that mattered.

The real impact of Expo showed up in kitchens around the nation when women embraced the idea of a modern home with modern cooking to create internationally inspired dishes with a Canadian twist.