Kyriakos Gogas designs systems for wind energy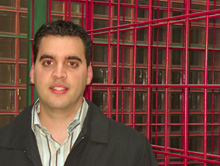 Despite an outstanding 4.3 GPA and an impressive résumé that includes positions with Ericsson Canada and the Canadian Space Agency, Kyriakos Gogas is modest.
As a co-op electrical engineering student, he alternated full-time work and terms of study throughout his undergraduate years. His specialization is power engineering, which uses power electronics to convert and transmit electricity from wind turbines to the power grid, such as that of Hydro-Québec.
For one of his final school assignments, the capstone project, Kyriakos designed a wind energy conversion system under the guidance of engineering professor Luiz Lopes, who called it "a great job."
"I would like to continue doing research in the area of wind energy and renewable energy sources," Kyriakos said. He has already received a NSERC scholarship for his master's degree, which he will probably pursue at McGill.
His varied practice led him to explore the diverse fields of electrical engineering. For his work at the Canadian Space Agency, for instance, he analyzed and tested software for a satellite.
Kyriakos liked best his internship at Mannarino Systems and Software, "a small aerospace consulting firm in Montreal," as he described it, where he was involved in the development of control systems for helicopters. He just started a summer internship at the Institut de recherche d'Hydro-Québec.
Kyriakos chose electrical engineering because "it seemed like a good chance to apply all the sciences," especially physics and mathematics, which he was passionate about in high school and CEGEP.
He still finds time to volunteer as a peer tutor for high school and college students in math and science.
Kyriakos said he enjoyed his studies at Concordia. "I love the fact that there are people of so many nationalities, especially in engineering," he said with a smile.
-Lina Shoumarova