Young filmmakers benefit from industry gifts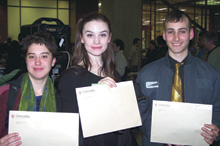 Awards were handed out on May 4 to graduating students in the Mel Hoppenheim School of Cinema.
The Mel Hoppenheim Award for Outstanding Overall Achievement in Film Production was awarded to Anna Woch for her film, Vaisseau fantôme. Anna is completing her BFA in Film Production while she work on a doctorate in biomedical sciences. See Great Grads, page 9.
The Dean's Award for Excellence went to Anna Sarkissian (Film Production).
The Technicolor Award, given to Evie Farmer, is significant for the winner; it provides the service of blowing up a film from 16 mm to 35 mm so that it can be viewed at top resolution in large cinemas. Evie's film is called Dichotomy Innocent.
The top animation prize, the Norman McLaren Award, was given to Dominic Etienne Simard for outstanding work over the three years of his program.
The Fondation René Malo Graduate Scholarship in Film Studies was awarded to Andrew Djaballah.
In addition to scholarships and awards from the Fondation de Sève and some longstanding endowments, members of the School feel fortunate to have solid corporate and community support. Former students, current faculty and staff contribute, and companies award services and materials.
There's also a great scholarship program, thanks to members of the Cinema Advisory Board. They approach corporate and private donors to provide tuition waivers for Cinema students. These donors include ARRI Canada, Power Corporation, Banque nationale du Canada, Muse Enterprises, and Galafilm, among many others.
Big screen for cinema students

Year-end screenings (YES) for Film Production students took place May 6 to 9 in the Hall Building auditorium. Though lengthy — four hours on Monday night — attendance and spirits remained high.
"This year's screening was a success," YES co-organizer Santiago Ruiz Torres said. "The enthusiasm was really great."
Films were grouped by year of study and genre: industry narrative, independent narrative, documentary or experimental.
One highlight was Eduardo Menz's razor-sharp choreography of a human hybrid, Mechanism/Organism, which was reminiscent of the work of Floria Sigismondi, a former Concordia cinema student who is now a big-time music video director. Sigismondi has worked with David Bowie, Leonard Cohen and Marilyn Manson, among others.
Other worthy efforts included Frank Cole Award winner Zachary Finkelstein's hypnotic one-shot documentary, 400' Wind, Dan Beirne's sidesplitting film, An Introduction to the New Humorists, and Sophie Farkas's up-close and personal Visage O Scope, which reconstructs a face through various cinematic techniques.
The profits from YES helped fund La Crème de la Creme, a film festival on May 18 at Cinema L'Amour on St. Laurent Blvd. Eight films in all were selected for La Crême, which gave students the chance to screen their projects before an industry jury.