Jianmin Gong will become a dean at a Chinese university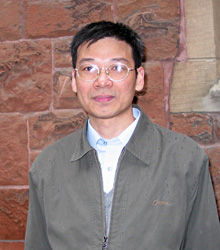 When Jianmin Gong leaves Montreal with a new PhD in Electrical and Computer Engineering from Concordia this month, he will return to his native China and take up a position as Dean of the Faculty of Information Science and Technology at Jinan University in Guangzhou City.
But Gong won't be leaving Montreal behind entirely – his wife and daughter will remain here, and the three of them will visit back and forth fairly regularly.
Gong's degree from Concordia is the result of a decision to make a career change. He got his first PhD in 1989 from University of Electronic Science and Technology of China, specializing in high-power microwave electronics. For several years, he moved back and forth between China and Milan, Italy, teaching and working in a university setting.
In 2000, he and his family immigrated to Canada, and Gong got a job as a project engineer for a Boucherville-based communications company.
Second doctorate
When he felt no future in the company, he talked to Concordia's Reza Soleymani about possibilities in the related field of aerial communications. He began work on his second PhD in 2001.
"Industry is very limited in my previous area because it requires large investments," he explains. His work now focuses on wireless communications, since "there are big developments in wireless communications in China."
As dean, Gong expects to spend about a third of his time on administration and two-thirds on research. He hopes to develop a type of microwave oven to treat garbage in a clean and energy-efficient manner, to establish a lab for channel modeling in wireless communication; and to study safety issues related to electromagnetic compatibility for electronic devices.
Having studied and done research in China and in western countries, as an administrator, he hopes to combine the advantages of both systems. He also wants to apply some of what he has learned about western education methods when he returns to China, and introduce the concept of student evaluations of professors.
- Janice Hamilton