Towards a depoliticized workplace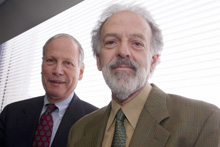 In business, change is necessary, but it's not always easy to tell if you're changing in the right direction.
Michael Beer, an emeritus professor at the Harvard Business School, came to Concordia on April 29 to give a well-attended talk about the qualities that can lead to stagnation and loss of commitment within a company.
He identified a number of "silent killers," so named because their nature renders them difficult to discuss. Unclear strategy, conflicting priorities, ineffective leadership and closed communication are some examples.
"He's basically a change guru," said Steven Appelbaum, Professor of Management and the Concordia Research Chair in Organizational Development. "The process that he's suggesting really forces organizations to change."
Beer endorses a gentler, more open model of organizational change. Whereas some companies use a top-down approach, with senior management drafting a corporate strategy that is adopted across the company, Beer says information should trickle up. Otherwise, the rot goes on unchecked, leading to a dangerous gulf between the company's goals and those attempting to execute them.
He proposes continuous change management and assessment through interviews between a management-appointed task force and mid-level managers and employees. Honesty and confidentiality would be paramount in these interviews, and the result should be an open environment where employees can speak candidly about the direction of the company.
On this topic, Appelbaum suggests, "Leadership problems that were under the carpet now get forced out on the table.
"The change doesn't really happen from the top down. The change happens from all over, from the bottom up, from the middle of the organization. As they're learning about themselves and changing, they're really developing. In a way, the people depoliticize the system."
This depoliticization of the corporation is crucial, because it removes self-interest from the equation and forces management to consider what's best for the company, even if it's not what is best for their careers.
"You really have to look at the fit between the strategy and the business, even though it may be very painful," Appelbaum said. "People who don't make the necessary changes become extinct."
Appelbaum said that he not only teaches this model of corporate development, but also structures his classroom conduct around it.
"I don't go ahead and PowerPoint people to death with theory," he said. "I put it back on them. I say to them, 'How do you do this in your organizations?' "Ultimately, I'm forcing them to have an argument with themselves and everybody else by putting it out on the table."
This argument should lead to the truth, and the truth is good for business, Appelbaum concluded. "This is the basis of organizational development and change that Michael Beer and I subscribe to."