Allégo for alternative commuting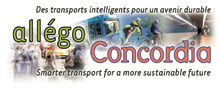 Allégo Concordia encourages the use of alternatives to single-occupancy cars commuting to and from the university.
The Allégo project was started by the Agence Metropolitain de Transport (AMT) and is being implemented by more than 20 businesses and institutions in Montreal.
At Concordia, the project starts with an analysis of the commuting habits of students and employees and the accessibility of the university.
The first step is to find out roughly where people live in relation to their work or study at the university, and how they arrive on campus. This will be done through a survey, which was launched last Friday. It can be taken online at: www.amt.qc.ca/allego_concordia/en.
At the same time, an accessibility profile will be made to understand Concordia's physical characteristics as regards transportation. For example, what our facilities are for bicycle racks, parking lots and public transportation access.
This summer, after both sets of data have been collected and analyzed, there will be open forums for all members of the university community to discuss what initiatives can be developed. Specific projects will start to be implemented in the fall. These may include a carpooling program, more bicycle racks, and other initiatives.
The Allégo Concordia project committee comprises representatives of the staff, students and faculty. Particularly active on the committee are geography professor Craig Townsend, graduate student Donny Seto, and Bernadette Brun, a consultant from Voyagez Fute who works with the AMT. Sustainability Coordinator Melissa Garcia Lamarca is coordinating the project.
Prizes for completing the survey before April 1 include five TRAM passes ($70 each), two pairs of first-class VIA tickets to Quebec City, a bicycle worth $500, gift certificates from the bookstore and Roller Blades.
There's more information about Allégo on the following website:
http://www.voyagezfute.ca/allego.asp?lng=1.
Don't forget to take the survey!
Sustainable Business Conference draws 250
More than 250 people took part in the Sustainable Business Conference, held March 11. They included students from HEC, York, the Université de Montréal, McGill, Concordia and some business people.
"The business classes I take are more focused on profitability and they don't generally touch on sustainability," said co-op Marketing student Debbie Carman.
The SBC was the inspiration of Chantal Beaudoin and Geneviève Rivard, two students in the John Molson School of Business. Both were volunteers with the Sustainable Concordia Project (SCP).
Author and former senior money manager Bob Willard said making money and protecting the environment do not need to be mutually exclusive.
Claude Ouimet, Senior VP Marketing of Interface Flooring Systems, said his company has saved $231 million since 1995 and reduced energy consumption by 35 per cent in the process.
With its no-sweatshop policy and decent salaries for its workers, American Apparel has earned a loyal following. CEO Dov Charnay said, "Treat people well, offer fair wages and decent working conditions, and make sure everyone is having a good time. There's lots of money to be made by practising sustainability."