Undergrad breaks new ground in linguistics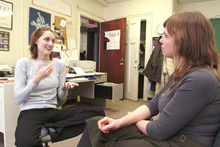 Described by one professor as a "star" and another as "gifted," Bonita Squires is attracting a great deal of attention.
The Concordia linguistics student recently co-authored an encyclopedia entry with McGill professor Rachel Mayberry, and is scheduled to speak to audiences at Harvard and Ottawa this spring.
Not bad for an undergraduate who, only four and a half years ago, moved to Montreal to study music at CEGEP. Since then, she has learned American Sign Language (ASL), changed her focus of study, and become a research pioneer.
"The Concordia linguistics program is very proud of her," said Charles Reiss, an associate professor in the Department of Classics, Modern Languages and Linguistics. "Bonita could easily enter a PhD program at a top university to work on signed languages or any other branch of linguistics."
Squires's blossoming career started with an interest in sign language. After moving to Montreal from Vancouver she volunteered at the Mackay Centre School to work with deaf children, in the hope of learning it from them. It didn't work out as well as she would have liked.
"I was learning the signs for dogs and cows and animals," she said, because when you're working with five-year-olds that's what they want to talk about.
In the meantime, Squires signed up for linguistics at Concordia, and after taking adult ASL classes at Mackay she became fascinated with how signed languages are similar to spoken languages. After academic successes in the program, she approached Rachel Mayberry, a professor who runs a McGill research lab focusing on sign language. Mayberry was looking for a research assistant.
"Bonita impressed us with her skills in ASL," Mayberry said. Because these positions are normally reserved for McGill graduate students, she had to obtain special permission from the university, and in May of 2004 she hired Squires.
Since then, Squires has been tackling projects even some PhDs would shy away from. She's currently doing a thesis on misarticulations — errors — in sign language. To do this, she's working with a 19-year-old deaf man who was completely language-free until he was put into the care of a signing foster family at 13 years of age. Squires studies his signing errors and tries to establish how they relate to his late introduction to ASL. She hopes this ideal case study helps lend some insight into what are known as "critical period" studies. In other words, she wants to know how advancing age affects one's ability to learn a language fluently.
There's a major challenge, though. "I don't have any baselines. I don't have any other research to feed off," she said. She is in new territory, a prospect that's both exciting and terrifying for a researcher. In doing this thesis, she must break sign language down into its component parts and define them as she goes. This is the aspect of her work that has won her so much attention.
She spoke on this "sign phonology" at last year's Concordia University Undergraduate Conference and this spring she will deliver talks at Harvard and the University of Ottawa.
Last year, Squires helped Mayberry research and write an article on children's acquisition of ASL for the Elsevier Encyclopedia of Language and Linguistics.
"We really worked together as a team gathering all this information," Mayberry recalled. "It's something I could not have done without her." As a result, Squires was officially credited with co-authorship, something Dr. Reiss, who has also written for Elsevier, called "an incredible achievement for an undergraduate student."
Squires hopes to take interpreter training this fall, then spend a few years immersed in the deaf community. She's hoping to earn their respect and trust, so that she can help to improve their situation.
Reiss is optimistic about her prospects. "With this training and her scientific and cultural knowledge of issues of importance to the deaf, she will be a powerful advocate for an underrepresented and misunderstood community."
Bonita Squires will receive her bachelor's degree this spring.