Docu-series portrays rising Canadian choreographers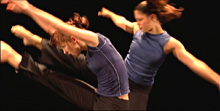 You only need to spend five minutes with Philip Szporer and Marlene Millar to realize how passionate they are about what they do. When you ask them about their latest project, they start reminiscing, with big smiles, about how it all began.
Szporer, an arts journalist and Concordia professor, and Millar, a documentary filmmaker, met while dancing in a production by New York choreographer Charles Dennis. In 1999 they won a Fellowship for the Dance/Media Project at the University of California in Los Angeles that allowed them to immerse themselves in the field of dance and the moving image.
In 2001 they created the film and production company Mouvement Perpétuel, devoted to the creation of art documentaries. This gave them the chance to realize an idea that they've had for a number of years — the docu-series Moments in Motion/Au fil du movement.
Written, produced and directed by Millar and Szporer, the series captures the intimate universe of seven rising Canadian dance artists.
"We wanted to do more Canadian-based work and we were looking specifically for contemporary dancers," Millar said.
They travelled across Canada to meet the young, innovative artists who were "articulate not only with their bodies, but also with their words."
Moments in Motion is a poetic and beautifully shot testimony to the diversity and creative energy of the new generation of Canadian dancers. Each of the seven-minute shorts tells the story of a passionate artist with a strong vision. The striking images of dancing bodies are accompanied by the voices of the artists themselves, describing what inspires them to create.
For Byron Chief Moon from the Blood Reserve in Alberta, it is the traditional Native American dance, language and storytelling.
For Natasha Bakht from Ottawa, it is the blending of cultures and vocations. She has a law degree in addition to a choreographic career.
For Sarah Stoker from St. John's, Newfoundland, it is the importance of being socially and politically engaged.
"Canada is encapsulated in the seven portraits," Szporer said. "These stories are part of the Canadian landscape; they represent the country."
Millar added, "With these stories, our goal was to bring all things together — documentary filmmaking and our love for dance. It was a process of exploration."
Parts of Moments in Motion have been shown with success in numerous festivals around the world, including Italy, Germany and Mexico. The series will be featured on Bravo! in September.
Millar and Szporer said they have learned a lot from the young artists who are featured in the series.
"We learned about communicating our ideas, about the process of collaboration, and about the production part of the work. We also learned how to be elastic, to rebound, to turn negative experiences into positive ones," Szporer explained.
Millar and Szporer agreed that one of the key challenges facing young dancers in Canada today is the lack of support that the artists need in order to succeed in a often volatile field.
In addition, Szporer remarked, they have to be strong in their values and know what is it they want to say. They have to be able to find their own, unique voice.
Moments in Motion will have its Montreal and world premiere at the Festival international des films sur l'art on March 16, at 9:30 p.m., at the Cinéma ONF, 1564 St. Denis St.