Nadia Vracotas saved five from drowning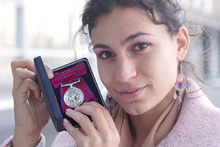 Nadia Vracotas, who is now in her final year of a psychology degree, has been presented with the Medal for Bravery by Governor-General Adrienne Clarkson. It is part of an experience that will stay with her forever.
One sunny day in the summer of 2002, off the coast of the Greek island of Corfu, Nadia saved five people from drowning, one by one. She figures it took her about 10 minutes each. She nearly died doing it.
She was 22 and had just done her first year at Concordia. She lives with her mother in Ville St. Laurent, and visits her father in Greece every summer.
Nadia was a competitive swimmer. "I did synchro, water polo, everything. I grew up competing in the water." And she was fearless. "I used to take a lot of risks — snowboarding, riding around on a motorcycle without a helmet, which you can do in Europe. I never saw danger in water. I never saw how easy it could be [to die]."
On that day, she was on the beach. In the water were two American men and four Greeks: a 12-year-old girl, a young woman of about 17 or 18, and a young couple. When the trouble started, the bathers were about 25 metres away, but as time went on, those in the water drifted farther and farther away. The strong undertow had swept them off their feet.
She thought the Americans were fighting. Then she realized they were struggling for their lives and calling for help. She was already in the water, so she swam to them, and pulled the one she knew back to the beach. The other American got himself out. She helped the youngest girl out. Then she went back for the teenager.
When she went in for the couple, they had been carried a long way out, she has no idea how far. She got the wife, and dragged her back to shore.
She went back for the husband. When she got to him, he was still alive, but unconscious. "I don't know at what point he died, but I did bring him back to the beach, and tried to give him CPR." She was at the end of her resources, and felt as though she was drowning. With great difficulty, she made it back to the beach.
Nadia thought for a long time afterwards not about those she had pulled out of the sea, but about the man she couldn't save. "I went through a phase of feeling angry and guilty. I hate failure. I took losing this guy as a failure."
Her marks went down the next year. "It was also because my grandfather sickened and died. It took a long time, over a year, and I visited him every day in the hospital. He really wanted me to win." He died in March 2004, and her award was confirmed a month later, in April.
She was hurt by the reaction of the two New Yorkers she had saved. When the RCMP investigated the incident to verify her story, they were evasive and unco-operative.
The first man had been a friend of hers that summer in Corfu, but although he told the Mounties the real story, he never sent them the official statement. She wonders if he was embarrassed to have been saved by a woman. The most helpful person in the long investigative process was the young Greek widow.
She remembers every detail of the ceremony at Rideau Hall on Feb. 4: "Before the ceremony we were taken into a room and they briefed us, told us how it would go. They said to call her Your Excellency.
"They call you one by one. You stand and nod to her. They read your story [citation]. She puts the medal [on a ribbon] around your neck, and talks to you while they clap.
"I was the only woman receiving the medal by herself, but there were three women receiving awards on behalf of their husbands, who had died saving people. That was what got to me, seeing them having to go up and listen to their husbands' stories. I had been talking to one of these women before the ceremony, and it was hard to watch her."
She was moved by Adrienne Clarkson's speech. "It's on the Web. It made me proud to be Canadian. The Greek ambassador was there, he was invited, and he was very nice, but the Greek government didn't do anything. I was proud that the Canadian government recognized me."