Ashee Sarin wins Quebec award for great MBAs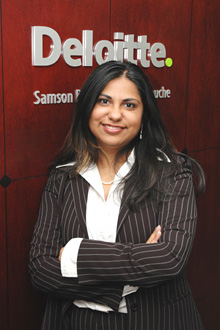 Senior executives say Ashee Sarin is the kind of boss they would like to work for. It's one of the ways they evaluate the top Master's of Business Administration grad for their association's $10,000 prize.
Sarin was presented with the Bourse Émérite Desjardins de l'Association des MBA du Québec at a luncheon on May 25.
She is already the top graduating MBA student from the John Molson School of Business. Not only will she be awarded the MBA Medal for academic achievement at convocation on June 14, she also received the Bessie Schulich Fellowship for Entrepreneurship.
Although she was VP Career Placement in the John Molson MBA Society, Ashee found time to volunteer at the MBA program's student orientation sessions, the Montreal Children's Hospital food and clothing drives, and for the Nez Rouge driving service during the holidays.
Four years ago, the AMBAQ developed an award to recognize the top graduating MBA student from the six major programs in Québec. The first year, JMSB MBA student Karim Boulos won the award.
Candidates are evaluated on academics, leadership, personality, extracurricular activities and social engagement, job experience, involvement within the Quebec business community, quality of communication skills and bilingualism.
Recently returned from a student exchange in Essec, France, Ashee will go back to her former employment as Senior Consultant, Corporate Strategy, at Deloitte Consulting in Montreal.
Her boss, Guy Barthell, Partner, Corporate Strategy, at Deloitte, said, "We are extremely proud of Ashee, This honour will also have a very positive impact on our practice and our team."
For her part, Ashee said that with MBAs becoming an industry standard, not all business schools are providing the practical attitudes and leadership values that are needed. The program's flexibility in allowing its students to tailor their MBA experience helped her derive added value from it.
She added, "Awards such as these really validate activities beyond the classroom and making an effort to be involved, both at the community and school levels."