Behzad Akbarpour's thesis could save lives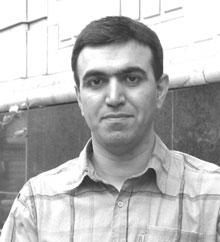 Behzad Akbarpour hopes his doctoral dissertation in electrical engineering will help prevent costly and sometimes fatal errors in hardware and software systems.
"We are very much dependent on such systems for continuous operation," he said. "Unfortunately, it is no longer feasible to shut down a malfunctioning system in order to restore safety."
In case of an error, cars, airplanes, electronic commerce, telephone switching networks and computerized medical instruments can be affected. In order to prevent failure, Behzad has developed a methodology for verification of the design and functioning of digital signal processing systems.
His work has been praised as "pioneering" from experts in the field. He has published in some of the top electrical engineering journals such as Formal Methods in System Design. His supervisor, professor Sofiène Tahar, could not hide his admiration, calling Behzad "one of my best students."
Behzad came to Concordia as an international student in 2000 from Iran with a master's in electrical and electronic engineering from Sharif University in Tehran. In his first semester here, Behzad alternated between engineering and ESL courses to improve his language and writing style.
"I selected Concordia because it has one of the best Hardware Verification Groups (HVG) in the world," he recalled. The HVG is a research group in the department of electrical and computer engineering, which specializes in the verification of microelectronic systems.
Although he does not exclude the possibility of returning to Iran and working there, for now Behzad is looking forward to continuing his research. He awaits answers from the postdoctoral programs he has applied to in Canada, United States, Britain and Australia.
"I enjoyed pursuing education in a multicultural country," he said. "Throughout my study at Concordia many people have encouraged and helped me through many obstacles. I have enjoyed studying and working with my colleagues in the hardware verification group, wishing to thank them all for their support and the nice time we have spent together.
"I have been very fortunate to have Dr. Sofiène Tahar as my supervisor. I am deeply grateful for his strong support and encouragement throughout my PhD studies."