In Brief
Summer Studies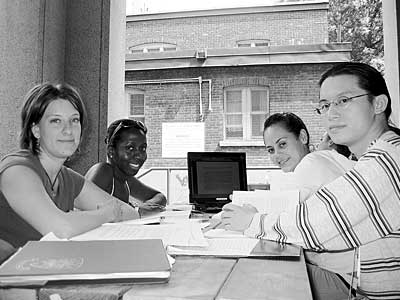 When the weather is warm, the studying outside is easy. At least, that's what these Concordia students found when they worked on a group project in June on the terrace behind the J.W. McConnell/Webster Library building. The students, whose project was related to writing an English essay, were, left to right: Julie Ouellet, who is doing a specialization in translation; Karina Thévenin, major in sociology; Carolina Angarita, major in political science, minor in economics; and Hao Yin, major in management information systems.

Concert in the wild woods
Canadian composer R. Murray Schafer is coming to teach a course at Concordia this fall, and will give a public lecture.
You can get acquainted with his work through his celebrated environmental theatre piece, The Enchanted Forest, Aug. 14 to Sept. 2 near Haliburton, Ont..
Tickets are $50 and $40, and the experience of Schafer's unearthly music sung by children's choir, together with costumed characters, the water and the wilderness, are reportedly intoxicating. Go to www.patria.org for details.