Staff architect makes national dragon boat team
Kirsten Sutherland turned her passion into an all-consuming challenge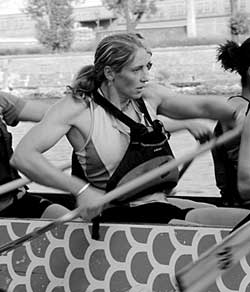 Kirsten Sutherland is passionate about dragon boat racing. She has just made the Canadian National Dragon Boat team and will compete at the World Championships in Berlin this summer.
Kirsten is an architect in Concordia's Facilities Management Department. Now in her third season of paddling, she is among seven members selected from the Montreal women's team to join the national team based in Toronto.
She tried dragon boat racing on the advice of her brother. She began paddling with a mixed crew and moved on to paddle with a more competitive women's crew. As a runner and tennis player, Kirsten appreciates the atmosphere.
"I enjoy the fact that it is a team sport where everybody contributes and helps to motivate one another," she said.
New sport
Based on ancient Chinese practice, modern dragon boat racing is a relatively new sport, open to people at all levels of competition. It requires 20 paddlers guided by a drummer in the bow who calls out instructions based on the steering directions of the team member in the stern.
The 500-metre races are sprints through the water, lasting about two minutes, with roughly 70 strokes per minute. Races are so close they are often measured in 100ths of a second.
The races are mentally and physically challenging, and require the paddlers to be perfectly synchronized. The team has to paddle initially to get the boat to sit on top of the water, paddle efficiently to reach race speed, and conserve some energy for the finish.
Every race is a challenge — to the crew and to the individual paddler
- Kirsten Sutherland
"The sport is thrilling. Every race is a challenge — to the crew, and to the individual paddler," Kirsten said with a smile. "We look for ways to stay focused with our paddling technique because any excess movement can slow down the boat."
The paddling technique can be described with the catch-phrase 'apple core, orange twist.' "We are frequently told to keep our core solid and twist from the waist to prevent bouncing forwards and backwards with each stroke."
With the popularity of the Asian-inspired sport, standards have risen and the coaching infrastructure has grown.
To stay in shape, Kirsten's weekly routine comprises three weight training sessions, four cardio workouts and four paddling practices, for a total of 11 training sessions a week. This is in addition to out-of-town competition in the summer.
Indoor tank
During the winter, the crew trains at the Olympic basin at Parc Jean Drapeau, in an indoor paddling tank. "The water moves in a circle and we remain stationary. It's the best place to improve our technique."
A great deal of time is put into training as a group to perform well together. The team spirit is unmatched, as the team practices, travels and competes together. Kirsten considers herself in good company.
"I am lucky to have found an extremely motivating coach who challenges me and a mixed and women's crew who are all dedicated paddles with strong goals and positive outlooks," she said.
Kirsten sees dragon boat racing as a positive thing in her life, and after a day at work she looks forward to "go out there and pound the water."
You can catch Kirsten's dragon boat team in action at the Montreal International Dragon Boat Festival at the Olympic basin, Parc Jean Drapeau, this weekend, July 30 and 31.