Chloe Wolman wins lit contest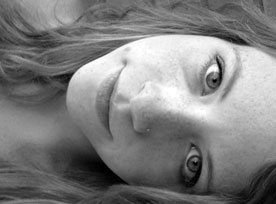 Chloe Wolman, who is in her final year of the Creative Writing and English Literature joint honours program, has won this year's Toronto Star Short Story Contest, and its $5,000 prize.
Her story, "Freeing the Stone," was published on July 10, and readers of Canada's biggest newspaper could even hear it read aloud via a podcast.
Chloe was so sure her entry wouldn't win that she wrote a rather jokey biography, which appeared in the Star:
"Claire Wolman was at one point a student very much interested in journalism and the Truth.
"However, following a brief stint as a mediocre teller of the Truth, she has decided she would rather live her life as a very good liar and write fiction. She is not in position to guarantee the veracity of her own biographical statement.
"She is 22 years old and is currently travelling in Turkey."
CTR tracked Chloe down by e-mail in Perugia, Italy, where she went for the Umbria Jazz festival. She said the creative writing program has been "more amazing than I can explain."
"Having an audience for the first time in my life has made a huge difference. I'm learning to make my work as a writer more seamless: Everything has to just make sense, no questions or interruptions. If the illusion isn't flawless, the effect of the fiction is ruined. It sounds fake, instead of plausible and absorbing."
She had never entered a literary competition before, except for the Irving Layton Awards at Concordia. When she decided to enter this one, she "thought no one would ever give my piece a second look.
"The story was more or less written for the competition, but for me, it was an exercise in writing a piece with a very short limit of 2,500 words."
The edgy style, she says, is "simply the way I tend to write. When I try and achieve an effect, it comes off sounding forced. Writing humour is a real challenge.
"The story actually started as a suggestion by my professor last year, Tess Fragoulis. She suggested that giving a character contradictory characteristics might help make them seem more authentic (that is, rarely are people entirely good or entirely evil).
"She gave the example of a character that is the neighbourhood bully. He terrorizes everyone, but makes the most incredible cakes. I tried to create a character with that in mind.
"David, my protagonist, seems normal and approachable, but at the same time is utterly unable to show compassion towards his sister. Does being a generally 'nice' person mitigate behaviour that seems otherwise so callous?"
Chloe was born and raised in Toronto. She went to Simon Fraser University for a year and then transferred to Concordia for the Creative Writing Program.
She has been inspired by her travels this summer. "I've seen things I could never have imagined were real. For example, in Istanbul's Egyptian Spice Bazaar, there is a one-eyed man with a patch like a pirate who cares for a rabbit that tells the future.
"I don't think I could have made up something that unusual. I think strange or shocking differences in culture help me think creatively about characters, settings and just about writing in general."