Genocide issues as seen from a feminist perspective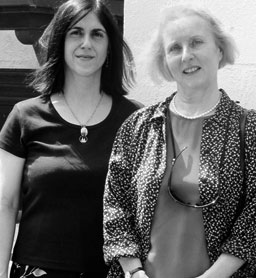 For several years, Karin Doerr and Sima Aprahamian, from the Simone de Beauvoir Institute, have been working together on a difficult subject: genocide.
They study the aftermath of trauma and extreme violence, questioning the connections among genocide, memory and language as expressed in literature or the recollections of survivors. What is more, they bring in a feminist perspective.
"We share problems related to working in a field that is sensitive, difficult, and sometimes very personal," Doerr explained. "We are particularly interested in women's experiences, which tend to be underrepresented."
Doerr said it was here in Montreal, where many Holocaust survivors live, that she was drawn to this subject.
After completing her PhD in German literature at McGill, she realized she could explore issues related to Holocaust from a linguistic angle.
She initiated several projects, one of which was to talk to survivors about the impact the German language has had on them. She wanted to know how the "language memories," as she called them, have shaped the survivors' attitude towards Germans.
For Sima Aprahamian, on the other hand, the subject of genocide is rooted in her Armenian identity.
"The genocide of 1915-1922 was part of my growing up," she said. "It was presented to me as a wound that still bleeds, as it has remained unrecognized."
Aprahamian remembers her grandmother narrating stories of resistance of the Armenian people against the Turks.
"It is very hard to hear the Turkish denials and Turkish collective amnesia," Aprahamian said, referring to Turkey's refusal to acknowledge the persecution against Armenians as genocide.
Although Doerr and Aprahamian have not published anything together yet, they have organized numerous conference sessions.
In early June, they participated in the Canadian Federation of Humanities and Social Sciences 2005 Congress at the University of Western Ontario. They coordinated the session "Translated Memory and Language of Genocide: (Gendered) Responses to Traumatic Histories and Silence."
Doerr and Aprahamian said they were delighted when they unexpectedly received a submission for participation from Verjine Svazlian, an Armenian researcher and ethnographer.
Svazlian has spent the last 50 years interviewing witnesses of the Armenian genocide. She has compiled more than 660 testimonies in the form of personal narratives and folk songs.
"Upon meeting the survivors, I always found them silent, reticent and deep in thought," she said in her touching paper, which she presented first at the conference and again during an informal meeting at the Simone de Beauvoir Institute on June 16.
Doerr and Aprahamian are currently preparing a seminar on genocide from the perspective of feminist ethics of caring. It will be offered next year at the Institute.