Concordia students help local filmmakers in Cuba
Sponsorship was hard to get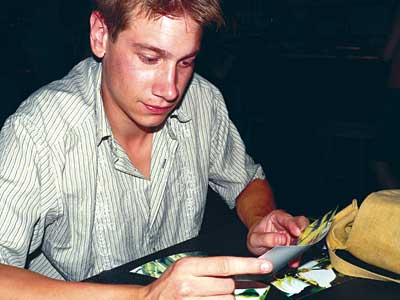 Mark Seniuk, Josselyn Alvarado, Lucas Villegas, Maureen Grant and Gina Dionne spent the month of June in Santa Clara, Cuba, providing equipment and workshops to local artists who want to learn more about filmmaking.
Seniuk, a 2005 graduate in Film Production, said, "Josselyn's contacts made the whole thing possible.
"She had connections with Cine Joven (Young Cuban Cinema) through promotional work she did for the Cuban rap group Doble Filo. That legitimized the whole project and led to a formal invitation from UNEAC (Union of Writers and Artists of Cuba)."
Province helped
With their invitation in hand, the team looked for sponsorship. The Office Québec-Amériques pour la Jeunesse, a provincial program that specializes in cross-cultural exchanges, stepped up to cover roughly 80 per cent of the group's airline costs.
Film and video companies didn't respond; what financial good could come from advertising in the constrained Cuban retail market?
It was up to the team to find equipment. Friends and family were the most helpful; nearly every film school and program in Montreal turned down the offer for fear of customs issues. Only Vanier College offered aid by providing two Super 8mm cameras and some film stock.
With the help of a UNEAC liaison called Pedro, who was a former intelligence officer, the team assembled interested locals into Santa Clara's art gallery to explain their objective.
"The whole point was to go down there, work with Cine Joven, and introduce people to film on every level," Seniuk said. "We weren't there to give direction, we were there to supply tools.
"Word of mouth had spread, as this was out of their realm of normal possibilities. Everybody there was so positive and the artists were stoked."
Days began at dawn. Staging early workshops gave people an entire day to work on their projects. Film techniques, processing and location sound were parts of the team's regimen. They separated beginners from the intermediates; some artists were already familiar with the equipment via Santa Clara's small television school.
Problems
There were some problems. Government officials refused to acknowledge the team's cultural-work visas provided by UNEAC and gave them traveling visas instead. This led to a daily cat-and-mouse game to and from the airport as the team scrambled to reclaim possession of their footage.
"We are lucky, though, if we had been in Havana it would have been much worse. At least we got our film back," Seniuk said.
Capturing Santa Clara through the work of its artists is what Seniuk says will stay with him forever. He and the group did some filming of their own.
They're going to produce a documentary for festival release featuring legendary son band Los Fakires, who, after years of touring, still play every Sunday in their hometown of Santa Clara.