Peter Kruyt to chair Board of Governors
Executive terms extended to three years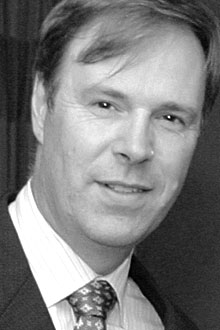 Peter Kruyt (above) has been appointed chair of Concordia's Board of Governors for a one-year term.
Kruyt (BComm 78) has been on the Board since 2000 and a vice-chair since 2003. He also chaired the Advancement Committee.
President of Power Technology Investment Corp. and chairman of Power Pacific Corporation Ltd., his community involvement has included the advisory board of the school of business at Memorial University of Newfoundland and the board of St. Mary's Hospital Foundation.
Eric Molson's term as Chancellor has been extended for six months, to Dec. 31.
At their June 8 meeting, the Board elected as vice-chairs Charles Cavell, Me Rita Lc de Santis, Brian Edwards and Jonathan Wener. At a subsequent meeting on June 28, their terms were extended from one to three years.
De Santis has been a governor since 1999 and a vice-chair since 2003. She also chairs the Appeals Committee and Ethics Committee. She is a partner in the law firm Davies Ward Phillips & Vineberg.
Cavell has been on the Board since 1999 and a vice-chair since 2003. A retired CEO of Quebecor World Inc., he sits on the Collective Bargaining and Advancement Committees.
Edwards has been a governor since 2000. He is an entrepreneur and founder of BCE Emergis, previously MPACT Immedia.
Wener has been an active member of the Board since 1995. He chairs the Real Estate Planning Committee and was a volunteer canvasser for both of Concordia's capital campaigns. He is chairman, CEO and principal shareholder of Canderel, Canadian real estate developers .
James Cherry, representing the community at large, was appointed to the Board for a three-year term.
Cherry comes to the Board is the president and CEO of Aeroports de Montreal. He is active in many community endeavours, including the boards of St. Mary's Hospital Centre and Concordia's International MBA Case Competition.
Baljit Chadha, Suzanne Gouin and Richard Renaud were re-elected to three-year terms. Professor William Knitter, Faculty of Arts and Science, was re-elected to the Board for a three-year term.
Walter Chan, Thomas Price and Mohamed Shuriye will represent undergraduate students for one-year terms. Brent Farrington was confirmed as the fourth undergraduate student representative for a one-year term, beginning July 1. David Bernans, president of the Graduate Students Association, represents that constituency for a one-year term.
Re-elected to three-year terms were Desmond O'Neill (administrative and support staff), Patricia Lavoie (Concordia University Alumni Association), Me Gerald Burke (Alumni Association of Sir George Williams University). Me John Lemieux was elected to represent the Concordia University Alumni Association for a three-year term.
Alain Benedetti, FCA (Loy, BComm, 1970) is stepping down. In recognition of his service to the university, Benedetti was named Governor Emeritus and a lifetime member of the Corporation of Concordia University. He was also appointed a member of the Associates of the Chancellor.
He had been a member since 1996, and previously from 1990 to 1993, when he represented the Loyola Alumni Association. He chaired the Board's Audit Committee from 1996 to 2003.
The Board thanked outgoing student members Patrice Blais, Natalie Pomerleau and Tyler Wordsworth, and Loyola Alumni representative Alex Carpini, who served the Board for 10 years.
At its June 8 meeting, the Board of Governors gave Frederick Lowy a standing ovation for his decade of service as President and Vice-Chancellor. Just two weeks before, in Quebec City, Dr. Lowy had been given the National Assembly's Medal of Honour as an expression of gratitude from the province.
At his last Board meeting, Dr. Lowy thanked the executive on behalf of the university, crediting them for its "phenomenal growth and continued development."