President Claude Lajeunesse steps up to the plate on Aug. 1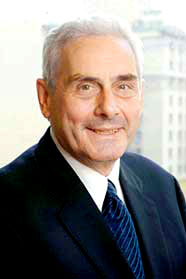 Claude Lajeunesse will not be in Bishop Court when he takes up his duties as President next week. Instead, he will move with his staff into the eighth floor of the Guy Metro Building on de Maisonneuve Blvd.
Bishop Court, the charming 100-year-old former luxury apartment building where Concordia's administrators have long been based, has no elevators.
"I believe that as I start this important assignment, I should send a strong message that everybody's welcome," Lajeunesse said in a phone interview from his office at Ryerson University in Toronto.
Lajeunesse understands the importance of getting the right message out. An article this summer by Financial Post columnist Diane Francis pointed to his success at Ryerson in refining the management skills of a corporate CEO for the collegial ambience of a university.
She quoted him as saying that at a university, "you can't order people to do things. You must convince people, make them constantly alert to objectives and ensure people understand and agree. All are independent entrepreneurs."
In fact, as the article in the Financial Post pointed out, Lajeunesse feels that the learning is all going the other way.
"If you read [management] literature, you see corporations moving a bit more to using the type of consensus-driven approach as in the universities," he said. "I think the modern CEO is really getting closer to the model that you have in a successful university CEO."
The opportunity to come to Concordia was timely, he said.
"I always felt that Concordia was one of the most exciting universities in Canada. Being a very open, very accessible, very high-quality institution — that was something that was attractive to me."
He has just finished his second five-year term at Ryerson, where he broadened the curriculum, got rid of "Polytechnic" from the name of the institution, and encouraged research and graduate studies. During his decade at the helm, Ryerson's enrolment increased 40 per cent and about $210 million in capital projects were undertaken.
He is aware that unlike his predecessor at Concordia, he does not have to wrestle with a $32-million accumulated deficit.
"Ten years ago, when Dr. Lowy came in, Concordia was in a fair degree of difficulty — not, perhaps, anybody's specific fault — but there was quite a series of circumstances that contributed at the time to needing somebody like Fred, who did just a super, super job. He was able to bring the community together in difficult times, and was able to deal with budget issues.
"I don't have to do that. I feel that the Concordia community is well united now. I don't see myself coming in to change things or to revolutionize anything. I see now the situation as one of continuity.
"Like any institution, we also have to renew ourselves, continue to look at what we're doing, see how we can improve it. An academic plan has been developed, and it will continue to be developed in more detail, including budget, over the next year."
As a president for seven years of the Association of Universities and Colleges of Canada, Lajeunesse has a broad take on university financing.
"The financial challenges are there in all universities in the world, but let's stick to Canada for the moment. The pressures are very simple to understand.
"If you look at the cost of living in general right now across Canada, we are talking two, three per cent increase a year. If you look at universities, because of their structure, because of the fact that they are involved in technology and are trying to compete for faculty and employees around the world, the cost of living is increasing in universities at a much higher rate.
"That puts tremendous pressure on every university to try to make ends meet. But that is not a problem that is exclusive to Concordia."
He also makes a firm point about where that financing comes from. "Universities in Canada get their support from government and from tuition fees. (There are other types of revenues, but they are relatively minor; less than 10 per cent come from other sources.)
"Student tuition fees are so low. It costs the same to send your kids to day care as to send your child to university. [That] just boggles the mind.
"Some of us know what the tuition was in the '60s in Quebec. It was between $500 and 600. At the time, you could buy a brand new car, say, a Volkswagen, for about double that price. Nowadays, the tuition is $1,800, and you certainly cannot buy a new car for $3,600. Clearly, there are many students who can afford to invest more in their own education.
"However, tuition should not be increased until we have a solid program of bursaries and scholarships in place," he added. "I can tell you from my experience that this is one of the most accepted types of support for universities. It's the type of charitable issue that people relate to. If we build on that, and have the approaches that are needed, it will work very well."
Lajeunesse sees the globalization of education as an issue that should concern Concordia. "Employees have a lot of mobility. If you look at those who hire our graduates, they want them to have an understanding that goes beyond local issues."
He sees Concordia's increased international enrolment as "an important force within the university. I think it is a great strength for a university located in a city like Montreal — a city that is bilingual, multicultural, a city on the move."
This broadening Concordia perspective should include the other three Montreal universities, with which he looks forward to closer partnerships: "We cannot afford to be isolated any more."
In summary, Lajeunesse said that the institutions that succeed are the ones that take these challenges and turn them into opportunities.
"That's what I hope the academic plan, when it's completed, when it's rolling across the institution, will allow us to do — capitalize on those opportunities.
"The end purpose of that is to make sure we provide our students with a better learning experience and to prepare them better to be successful people.
"It's not only to prepare people for work, it's also to prepare people to be better citizens – it's critical."