$150,000 Trudeau award won by Caroline Caron
Will study magazines aimed at francophone girls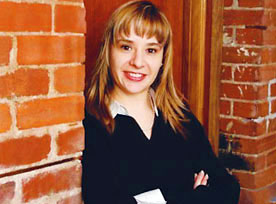 Caroline Caron, a student in Concordia's Joint PhD program in Communication Studies, just got a $150,000 opportunity.
As a Pierre Elliott Trudeau Foundation Scholar, she is one of 14 students from Canadian and foreign universities who received substantial support for research ranging from the Arctic to same-sex parenting.
For her dissertation, Caron will interview readers of French-language magazines aimed at young women, such as Filles d'aujourd'hui, Cool and Adorable. By comparing the girls' responses, she will assess how the readers absorb media messages.
"We need to understand how the sexualized messages targeting young women influence the way they think, feel, act and perceive themselves," Caron said in an e-mail interview from Quebec City, where she lives. "We must teach children to decode media messages and to be critical toward media content."
Caron hopes her research will help improve media literacy programs and foster citizenship development. She's also addressing a void in communication scholarship in Quebec, where only a few studies have explored this topic.
Established in 2003, the Trudeau Foundation Scholarship program confers the largest scholarships in Canada for doctoral studies in the social sciences and humanities.
Nominated
The Foundation does not accept personal applications; the candidates have to be nominated by their universities.
Caron credits three people for her successful nomination: Professor Kim Sawchuk, who is her thesis director, Professor William Buxton, and Elaine Hémond, president of the Groupe Femmes, Politique et Démocratie.
"Caroline is a loving, caring person," Sawchuk said. "She has an impressive publication record and is out there working not only in a traditional academic manner, but doing a very meaningful volunteer and community work. She is a wonderful emissary."
She has a Master's in Public Communications from Université Laval. Politically conscious, she has participated in community organizations throughout her studies.
Groupe Femmes
For the past five years she has been involved in the Groupe Femmes, Politique et Démocratie, a non-profit organization based in Quebec City that promotes citizenship education with an emphasis on the political engagement of women.
Caron strongly believes in the importance of knowledge and education. "For me, the intellectual quest is a form of commitment as important as social and political activism."
Research is her life, and she cannot imagine a better place to be than in a library or a university campus. Through research, she wants to change the world.
"I want to have a positive effect on society," she said. "Research is the way I have chosen because it gives opportunities to better understand the world and to propose ways of acting."
Caron expects the award to shape her career.
She will get $35,000 per year for three years, plus a stipend of $15,000 per year for three years for travel, conferences, stages and research.